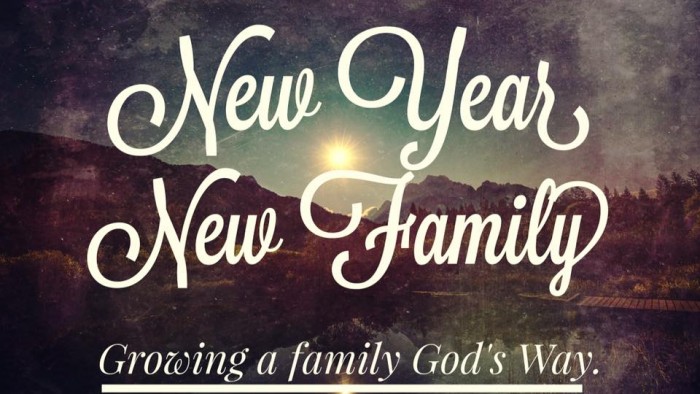 New Year New Family Part 2- Marriage- Genesis 2:21-25
INTRO> We started last week with building a foundation and building upon the Gospel of Jesus Christ. We said that Obedience is the Evidence of Faith but that Acceptance is the foundation for Obedience. It was ground work as we move forward with the different aspects we will cover.
TRANS> Today we are talking about Marriage and specifically God's design for marriage I wont to say 2 things. 1) I am a young man, who by no means has this figured out. If you want to know my flaws and weaknesses, talk to my wife but I have a great burden to follow Jesus and make him to center of my marriage. 2) I have read and read and study a lot for this portion and i will be pulling from many different resources, from sermons to books. One book I would highly recommend is "The Meaning of Marriage" by Tim Keller and his wife.
TRANS> When we look at marriage and it's design and what it is, i think that it is helpful to look at what marriage isn't at first. If you don't think Marriage is a hot topic, if you don't think so, go to Hastings and look at how big the section is. A lot of opinions and ideas as to what it is and what to basis is, but they all fall really into 3 categories:
3 Views on Marriage:
Carnal = Marriage is based on passion.
Contract = Marriage is based on performance.
Covenant = Marriage is based on

 

future promise.

The covenant promises says that you can have these things but they not be the basis.
So what does the bible say about this? Where do we start?
Marriage is God's Design.
Do you see how in the passage this wedding comes right along with the rest of creation? That God is literally creating everything then when it comes to making the man and the women, nothing changed, the flow of the poem continues?
APP> The kick back and problem with this is, that means that human beings don't have a say in it? *ILL- is anyone upset at how far away pluto is from us? Is anyone really, really mad about photosynthesis? Literally God is saying, the way the entire universe works, this is also how marriage works. Marriage is not a secular idea it is a sacred idea.
Also, i would argue if you don't take to God's design of marriage then you can't understand the Bible. The marriage and covenant language is how God speaks to his people. The Bible opens with a wedding.. Jesus starts his ministry at a wedding.. the Bible ends with a wedding.
2) God's Design for Marriage.
Marriage is Important: "Leave" – Interesting in the text, before there ever is a family, God says that the man will leave his father and mother. APP> What is God saying here? Your spouse is your top priority.

You don't confide in anyone else as deeply as you do your spouse. It's not that you don't have friends or family, its that your friends and family aren't central to you.

Marriage is Permanent: "Cleave" – The old King James says "cleave" here and I like that. The word here literally means "to be stuck and joined together." And here is the kick, despite the circumstances and your "feelings" APP> Love is a choice before it's a feeling. *ILL- Story of Dave and Donna, saying the vows right there, amidst the cancer and pain. Listen, divorce isn't an option.
Marriage is Intimate: "Weave"–

 

This "one flesh" idea is about sex in the marriage covenant but it's more than that. It is physical but it's also emotional, psychological, spiritually. APP> That is why sex outside of marriage isn't God design, because you are asking for one thing apart from the rest… and you can't do that, we were designed that way. One Flesh is a mingling of souls.
3) Jesus is the perfect spouse.
"both naked and were not ashamed"

Wow, isn't that beautiful? That's perfection. Adam and Eve where both one with God and each other.

Problem, we read this text after Genesis 3, after sin has entered into the world… Some of you are saying… what you just described is SO far from where i am at in my marriage. What can we Do?

Paul says that marriage is much bigger than what we think… it has a purpose behind it.

"Therefore a man shall leave his father and mother and hold fast to his wife, and the two shall become one flesh. This mystery is profound, and I am saying that it refers to Christ and the church." Ephesians 5:31-32
Big Idea> Marriage is a Mirror of the Gospel.
Think about it, God opened up the first Adams side, and put him asleep and made his bride.

In

John 19:34,

Jesus side was opened up with a sword and blood ran out.. and he went to sleep (death) and from that.. He made his bride, the church.

You will never understand your marriage until you understand the Gospel, we are the unfaithful spouse. Jesus is the faithful one.
"Every day, you and I reject the holiness of Jesus in a million different ways, only a fraction of which are we conscious of. If Jesus were keeping a list of our wrongs, none of us would stand a chance. At any second of any day, even on our best days, Jesus could have the legal grounds to say, "Enough of this. I can't do it any more. You've violated my love for the last time. This is unfixable." The truth is, you've never met a wronged spouse like Jesus. You've never met a disrespected spouse like Jesus. You've never met a spouse who more than carried their weight like Jesus. He's carrying the entire relationship on his back. This thing is totally one-sided.And yet: He loves. And he gives. And he serves. And he approves. And he washes. And he delights. And he romances. And he doesn't just tolerate us; he lavishes his affection on us. He justifies and sanctifies and glorifies." -Jarred Wilson