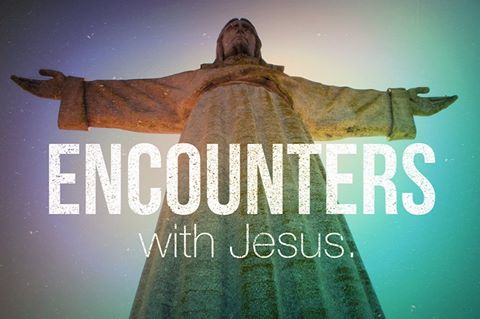 Easter Sunday 2017: Jesus Encounters
INTRO> 1982 the Los Angeles Times carried the story of Anna Mae Pennica, a sixty-two-year-old woman who had been blind from birth. The article said, "Anna Mae had depended upon other peoples vision of everything." in October1981 Dr. Thomas Pettit of the Jules Stein Eye Institute of UCLA performed surgery to remove the rare congenital cataracts from the lens of her eyes and Mrs. Pennica saw for the first time ever! The newspaper account does not record her initial response, but it does tell us that she found that everything was "so much bigger and brighter" then she ever imagined…. "Since that day Mrs. Pennica has hardly been able to wait to wake up in the morning, splash her eyes with water, put on her glasses, and enjoy the changing morning light."
TRANS> As I ran across that story I couldn't help but think about how that describes perfectly this day… Easter Sunday! For many of us, we have depended upon other peoples description and view of who Jesus is, what Jesus is like but the truths that we read and declare today change everything.
Big Idea> The Resurrection of Jesus Christ changes the way I see everything.
CONTEXT> We see this in our passage today in Luke 24 on the road to Emmaus, Jesus has resurrected and it's only the women who have seen him. Jesus encounters two of his followers on the road to Emmaus, which is about 7 miles northeast of where Jesus was buried. In this passage we see a number of things that these followers see differently after they encounter the resurrected Jesus.
The resurrection changes the way I view life. v13-17 & 34
"and they stood still looking sad…" this is strong language, it means that there faces where visibly affected by this sorrow.
"saying "The Lord has risen indeed, and has appeared to Simon. Then they told what happened.." Do you see the transition in this text? The text goes from such an ordinary, sad place to such a glad excited place!
APP> Here is the key to this fact i think, look in verse 15 "Jesus himself drew near…" Jesus always makes the first move doesn't he? But where does he come to them?…. in the ordinary?
ILL> Roman has learned to read. Things that have been in our house all of his life are new to him… stop signs… everything is now new to him. Things that where ordinary… have become extraordinary by this new truth. APP> The ordinary becomes extraordinary with resurrected eyes. Often times God does his best work, right where you are at. "Our Lord has written the promise of resurrection, not in books alone but in every leaf at spring time." Martin Luther.
2) The resurrection changes the way I view Jesus.
"Concerning Jesus of Nazareth… crucified him but we had hoped he was the one to redeem Israel." This is very interesting because the words that they use.. circle crucified and redeemed. They had plans for a savior but it was a political one.. so the crucifixion to them was the end but the reality is, is that's the very way God's plan worked!
APP> You can't know a resurrected Jesus until you have first known a crucified Jesus. It was our sin that nailed him there! Jesus just didn't die for you, he died instead of you, if you would believe that by faith.
"their eyes were kept from recognizing him… and then there eyes were opened…" Does any of this sound familiar to you? There is a meal.. and someones eyes are opened?
"Then the eyes of both were opened, and they knew that they were naked." Genesis 3:7
"And their eyes were opened, and they recognized him." Luke 24:31
APP> Jesus reverses the fall. If you do not know a resurrected Jesus you will only know guilt and shame.
3) The resurrection changes the way I view the bible.
"And beginning with Moses and all the prophets he interpreted to them in all the Scriptures the things concerning himself…" This is one of my favorite verses in all the Bible! The word "interpreted" means that he unfolded the scriptures…
ILL> Do you remember the movie "The Sixth Sense" (Pic) Spoiler alert.. Bruce Williams is dead.. like the whole movie… ha! But you can only watch that movie one time, because when you see it again you are seeing all the clue that point to that main point.
APP> "For all the promises of God find their Yes in him. That is why it is through him that we utter our Amen to God for his glory." 2 Corinthians 1:20 APP> The Bible is all about Jesus!
John Calvin, writing in the preface to Pierre-Robert Olivétan's 1535 translation of the New Testament.
"He [Christ] is Isaac, the beloved Son of the Father who was offered as a sacrifice, but nevertheless did not succumb to the power of death. He is Jacob the watchful shepherd, who has such great care for the sheep which he guards.He is the good and compassionate brother Joseph, who in his glory was not ashamed to acknowledge his brothers, however lowly and abject their condition. He is the great sacrificer and bishop Melchizedek, who has offered an eternal sacrifice once for all.He is the sovereign lawgiver Moses, writing his law on the tables of our hearts by his Spirit. He is the faithful captain and guide Joshua, to lead us to the Promised Land.He is the victorious and noble king David, bringing by his hand all rebellious power to subjection. He is the magnificent and triumphant king Solomon, governing his kingdom in peace and prosperity. He is the strong and powerful Samson, who by his death has overwhelmed all his enemies.
This is what we should in short seek in the whole of Scripture: truly to know Jesus Christ, and the infinite riches that are comprised in him and are offered to us by him from God the Father. If one were to sift thoroughly the Law and the Prophets, he would not find a single word which would not draw and bring us to him. . . . Therefore, rightly does Saint Paul say in another passage that he would know nothing except Jesus Christ, and him crucified.
Big Idea> The Resurrection of Jesus Christ changes the way I see everything.
Close>
How are you viewing life?
Do you know the crucified and resurrected Jesus?