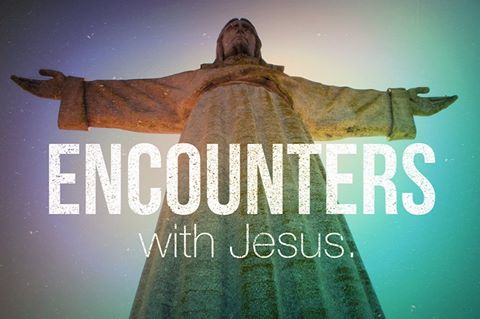 Encounter Series: Jesus Encounters the Seeker John 3:1-15
INTRO> Today we begin a new series that will lead us all the way to Easter. We are looking at the encounters that Jesus had with people in the Gospel accounts. We are doing this to look at 2 things. 1) How Jesus engages life toughest questions. 2) How these encounters change people.
TRANS> Today we are looking at the encounter recorded only in John's gospel, the encounter with Nicodemus, we are calling this "Jesus Encounters the Seeker"
ILL> I want to start today by talking about Richard Nixon and the Water Gate scandal (Pic) Interesting right? Watergate was one of the low points in American history where the highest office in the land was caught red-handed in corruption. What does this have to do with anything? Well Richard Nixon's right hand man, known as the "hatchet man" Chuck Colsen (Pic) Went to prison voluntarily on the charges against him. While in prison he surrender his life to Jesus Christ… he wrote a sort of autobiography.. what was the title of it? "Born Again" (Pic) Colsen always described himself as a "born again christian" Colsen took this phrase and put it front and center in the world.
CONTEXT> That phrase comes from our text today. Jesus answer's this question for us. What does it mean to be born again? *Just as a side note, We could do a 10 week series on this passage and just scratch the surface, we are dealing with the doctrine of "regeneration" Today: We will look at, What doesn't change us, Why we need to be born again, How we are born again.
1) What doesn't change us.v1-2
This seems like an odd place to start doesn't it? But that's where the text starts, we have to do a little back ground.

Nicodemus- John introduces us to this man, and give us a good description of him 1."A man of the pharisees" these guys where the conservatives of the day! Kept the OT law and even added some to it 2."ruler of the Jews" this means that he was also apart of the Sanhedrin, they where like the Supreme Court for the Jews. 3. "Are you the teacher of Israel"v10

These are strong words from Jesus.

Nicodemous comes to Jesus and says, I am a teacher, I do all of these things… But you have something that I don't have. "He has arrived at a great position; he is one of the authorities; he is one of the masters of Israel. But this man is sensitive to the spiritual realm, and when he sees this strange new Person who is able to work these extraordinary miracles, what strikes him at once is, "That man has something that I don't have." There is a knowledge of God here, there is an intimacy with God—"We know that thou art a teacher come from God." Nicodemus is not only interested, he is not only intrigued by this new teacher—he is convicted in a sense, and he has a desire within him to get hold of this something extra, this further something that this new teacher so obviously possesses." -Martin Lloyd Jones "New Birth"
APP> What does this mean for us. Well, let's look at Niodemus and see what he has, that we may either have or desire that we think we change us but doesn't: *(These are influcend by a sermon from Pastor Ryan Hugley from Hickory Harvest Bible Chapel)
Knowledge.
Postion.
Obedience.
Sincerity.
2) Why do we need to be born again?
We need to be born again because our hearts are spirituality darkened. "this man came to Jesus by night.."

John is giving us a picture here and we need to slow down to not miss it.

"In him was life and the life was the light of men. The light shines in the darkness has not overcome it." John 1:4-5 Jesus also picks up on this in v19 "And this is the judgment: the light has come into the world, and people loved the darkness rather than the light because their works were evil."

John is painting a picture and showing us this image is of ourselves.

We need to be born again to enter the kingdom of God. "You must be born again.." Jesus says this phrase 3 times. He also explains to him the problem with the "fleshly birth" it only produces flesh. APP> Born once, die twice. Born twice, die once.
3) How are we born again?
Supernaturally.v5

The reason Jesus is so astonished by
Nicodemus is because Jesus is quoting and fulfilling OT prophecy, when God said that he was going to make a new covenant, the best convenient with his people. " I will sprinkle clean water on you, and you shall be clean from all your uncleannesses, and from all your idols I will cleanse you.  And I will give you a new heart, and a new spirit I will put within you. And I will remove the heart of stone from your flesh and give you a heart of flesh.  And I will put my Spirit within you, and cause you to walk in my statutes and be careful to obey my rules." Ezk 36:25-27 Water = Cleaning of the old, Spirit = Creation of the new.
Painfully.

And all the women said, "Amen!" Think about it, the birthing process is traumatic. So it is with us, listen.. in order to be "reborn" that means something has to die..

Powerfully.v8 Jesus tells him about the "wind" the Holy Spirit. *ILL> Now think about it, remember the storms that came through last week… Did you see the wind? Did you see the affect of the wind? Did you see how the wind reagraned everything? That's how the new birth is!
Mysteriously

.

v8-v12 *ILL> The same mysterious way that a child's heart starts is the same way that a person is born again, this is a beautiful mystery!
APP> Do you see what Jesus is saying to this seeker? Nicodemous was seeking something to add to his life, Jesus corrects him. This is the big idea:
Big Idea> Christianity is not an addition to your life, Christianity is the creation of a completely new life.
APP> But how does this happen? v14 is the key…. "the son of man must be lifted up…" *ILL> Think about it When a child is born, what does the child do… nothing.
Jesus references the idea of birth and pain again in John 16, his last moments with his diciples:
"When a woman is giving birth, she has sorrow because her hour has come, but when she has delivered the baby, she no longer remembers the anguish, for joy that a human being has been born into the world.  So also you have sorrow now, but I will see you again, and your hearts will rejoice, and no one will take your joy from you." John 16: 21-22
Answer: The cross and resurrection. The death and the new life of Christ.
Big Idea> Christianity is not an addition to your life, Christianity is the creation of a completely new life.
APP>
Have you been "adding" Jesus to your life? (confession)
Are you born-again? (reflection)
Do you see the evidence of the new birth in your life? (Assurance)
Big Idea> Christianity is not an addition to your life, Christianity is the creation of a completely new life.