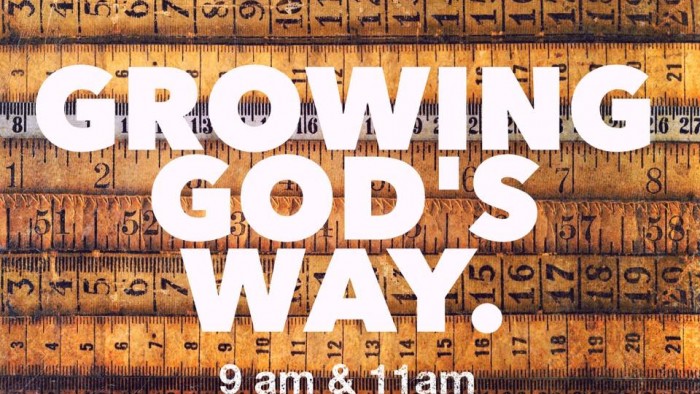 "Growing God's Way" New Years Day 2017 Luke 2:52
INTRO> Well… HAPPY NEW YEAR! We have a year behind us and a whole new year in front of us. With many possibilities. One of the great things about being a parent is watching your kids grow. With our first son, Roman at our first house there was an area there at the house where we marked his growth as a growing baby. We always watched his progress of growth. Today I want to do the same thing… I want to give you from God's word some areas where we can flag post our growth as followers of Christ.
CONTEXT> This isn't some self-help type of thing though, because it always all about Jesus. In Luke 2:40-52 we have a peculiar passage about Jesus growing up… think about it… God growing. With being on the heels of the Christmas season and us studying the incarnation, I am fascinated at the fact that this is true. That God knows everything about ever stage of the human life and experienced it! If you look in verse 40 and then verse 52, you can see that it is bracketed with this phrase… "And the child grew/increased"
Interesting the word "increased" literally means "to beat forward, to lengthen out by hammering as a smith forges metals"
"Although he was a son, he learned obedience through what he suffered." Hebrews 5:8
APP> Jesus knows the struggle.
TRANS> So what can we pull from this verse 52 and see the areas of growth that we too should be growing in.
Like Jesus, grow intellectually.v52a
"in wisdom" this word is "sofea" and means a broad since of intelligence. Jesus literally grew his mind.
APP> Your education didn't stop at graduation. God has given you a mind, to learn to grow, to worship. We can worship God with our minds. Did you know that the word for "disciple" means learner? "Come to me, all who labor and are heavy laden, and I will give you rest. Take my yoke upon you, and learn from me" Matthew 11:28–29 When you stop learning you've stopped living. Why is this so hard for us? Learning requires humility.
What have you learned about yourself this past year?
What have you learned about Jesus this past year?
What have you learned about the world around you?
2) Like Jesus, grow physically.v52b
"and in stature" Jesus literally grew physically, his body he grew from a boy to a man. He took his flinstone vitamins.
APP> Now i have to walk a fine line here, many of you are like Amen "Body is a temple of the holy spirit" those verse deal with sexual sin, I've heard preachers rail against drinking and dancing while they where 40 pounds over weight.
We know that God cares about our bodies because 1) He made them Gen 1-2 2) He put on a body John 1:14
"for you were bought with a price. So glorify God in your body." 1 Corinth 6:20
"I appeal to you therefore, brothers, by the mercies of God, to present your bodies as a living sacrifice, holy and acceptable to God, which is your spiritual worship." Romans 12:1
*ILL> Do any of you have that friend that borrows stuff and when they bring it back it is in worse condition?
APP> "For our citizenship is in heaven, from which also we eagerly wait for a Savior, the Lord Jesus Christ; who will transform the body of our humble state into conformity with the body of His glory." Phil 3:20-21 God want's ALL of you.
As a Christian you live in a borrowed body.
Our physical health is often times a mirror of your spiritual health.
3) Like Jesus, grow spiritually. v52c
" in favor with God" Again, this is a crazy concept to understand! Jesus showed us what perfect communion with the Father was! *ILL> Think about it this way… The body is used as a metaphor ALL through scripture. So how do we grow spiritually, the same way we do physically: (*adapted from sermon by John UnderHill)
In order to grow we need to eat—The Bible
In order to grow we need to breathe—Prayer
In order to grow we need good hygiene—Confession of sin
In order to grow we need a family—Community
In order to grow we need exercise—Service
In order to grow we need protection—Temptation
In order to grow we need to give—Stewardship
APP> Notice something in the text, the word "Favor of God". That the word "grace" APP> We grow by God's grace! "But grow in the grace and knowledge of our Lord and Savior Jesus Christ. To him be the glory both now and to the day of eternity. Amen." 2 Peter 3:18
4) Like Jesus, grow socially. v52d
"and man" I love how this is laid out in the text, because this is the greatest commandment in the Bible correct? "And he answered, "You shall love the Lord your God with all your heart and with all your soul and with all your strength and with all your mind, and your neighbor as yourself." Luke 10:27
APP> You can't grow your vertical relationship without growing your horizontal relationships
Relationships can be tricky, what are we to do?
What relationships do i need to

receive?

What relationships do i need to

redeem?

What relationships do i need to

reject?
CLOSE> What do we see from all of this? Jesus grew in a balanced way, he didn't nail one things and was weak on another thing.. It grew completely, he grew holistically
Big Idea> In order to grow Holy we must grow wholly.
"Rather, speaking the truth in love, we are to grow up in every way into him who is the head, into Christ, from whom the whole body, joined and held together by every joint with which it is equipped, when each part is working properly, makes the body grow so that it builds itself up in love." Ephesians 4:15-16