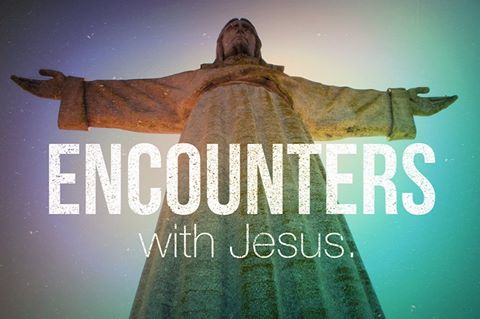 Jesus Encounters The Enemy/ Matthew 3:13- 4:11
How Jesus Engages questions and Jesus changes people.
Seeker/Nic/ Christianity is the creation of a completely new life.
Barriers/ Rich Ruler/ Jesus demands from us exactly what He gave for us, everything.
Introduction:
ILL>On Halloween night 1938, during a radio series called The Mercury Theartre on the Air, which was narrated and created by Orson Welles, aired a live broadcast. The War of The Worlds. (PIC) Broadcast largely unnoticed, headlines reported panic.
12 Million heard it and most knew what it was or didn't care, but some did panic.
What do you have to have when a battle takes place? You have to have at least two sides! So This morning we will be exploring the two sides of this battle that we see in the text. THERE IS A BATTLE
BEFORE WE DIVE IN- The Devil is a real being. God's word constantly denotes the pronouns and names for Satan. In Gen 3 hebrew אָמַר ('ah meyr) (he said,) and in Luke 10:18 the greek Σατανᾶς (sah tuh nahs)
Jesus says in Luke that He saw Satan fall like lightning, John 10 tells us that the enemy comes to steal, kill and destroy.
disclaimer- when we talk about Satan's attacks, we are meaning temptations. That's all he can do.
The Enemy's Attacks:
(PICS) Set the scene.
1)When he attacks.
He attacks when you are doing God's will.
Ch 3:13-17 "…this is My beloved Son in Whom I am well pleased."
God's will was for Jesus to be what we couldn't. Baptism was, in this context, required by man for repentance and righteousness. "our baptism is to identify us with Jesus. Jesus' baptism was to identify with us."
APP> When are you tempted the most?
the devil tempts us when we are doing God's will.
Weary of those who don't feel the attack. Does this sound foreign?
2) What he attacks.
He attacks your identity.
Chapter 4: v3 "if you are the Son of God…" v6 "if you are the Son of God…" v9 "all these i will give You…"
v5 Pinnacle of Temple/ Would've seen everything. (PIC)
Do you see what the enemy is doing here? He's attempting to confuse Jesus about His identity. COMMENTARY QUOTE
Trying to get Jesus to accomplish the Father's will without the cross. But the Father's will IS the cross.
Jesus does this again! Matthew 16: 'get behind me satan!'
He is trying to get Jesus to see what He should be. Lying about Jesus' identity. But what does God say?
Ch 3:17 "this is My beloved Son, in Whom I am well pleased."
It's almost as if the devil is taking what God has said about His Son and questioning whether or not God ever said it… sound familiar?
Genesis 2 :15-17 & 3:1
APP> The only way we lose is when we believe the devil's lies more than God's word. Don't you believe the devil's lies about your identity? Am I the degenerate? Am I a parental failure? I will never be a good husband. I will never overcome this.
The devil cannot cause you to sin, he can only make you consider it. SCREW TAPE QUOTE "it's funny how mortals always picture us as putting things into their minds; in reality our best work is done by keeping things out." do we forget who we are?
Colossians 1:13 "He has delivered us from the domain of darkness and transferred us to the kingdom of His beloved Son, in whom we have redemption, the forgiveness of sins."
Colossians 3:3 "for you have died, and your life is hidden with Christ in God!"
3) Why he attacks.
He attacks because he wants our worship.
Chapter 4:7-9 Notice where he says 'all of these I will give you.'
1) the enemy is a liar. The devil cannot give Jesus what the devil does not own. Psalm 24 says 'the earth is the Lord's and the fulness thereof.' God owns everything but the devil has a short leash. John 8:44
2) God is the creator, not the devil. The devil cannot create, he can only emulate.
ILL> In 1990, a court battle was fought between Vanilla Ice and Queen/David Bowie. (PIC)'Ice Ice Baby' & 'Under Pressure.' Eventually the case was closed out of court in a settlement costing Vanilla Ice a large but undisclosed amount of money. Intentionally or not, he was essentially guilty of plagiarism, of emulating.
EXP>Emulate :match or surpass (a person or achievement), typically by imitation. The devil cannot create, he can only emulate.
App> Taking a good thing and making it a God thing. A sin problem is a worship problem. All sin is satanic worship!
Jesus' Counter-Attacks
1) Why He attacks.
Jesus attacks because He is Obedient
Earlier we mentioned Genesis 3 and how we saw the devil attempt to take God's word and turn it into lies. Adam and Eve failed in the garden. They were commanded by God to not eat of the tree and they failed. They ate of the tree and they were disobedient. Jesus attacks the enemy because He is what Adam wasn't. He is obedient! All of Christ's replies to the enemy are what Adam should have replied with in the garden.
Jesus had the assurance of the Father. '…this is my beloved son…' App> do you face the attacks of the enemy with the assurance of the father?
2) How He attacks.
Jesus attacks the devil with God's Word
He ONLY uses God's Word. Nothing Else…
God's Son was dependent on God's Word when He was tempted.
App> If God's Son was dependent on God's Word when He was tempted, shouldn't we be the same? Psalm 119:11 "I have hidden Your Word in my heart so that I might not sin against You."
You may have noticed this you may have not, but all of Jesus' replies to the devil's temptations are direct quotes from scripture.
v4 He cites Deut 8:3/ v6 He cites Deut 6:16/ v10 He cites
Deut 6:13 Interesting. The ONLY words we have recorded in this scene coming from the mouth of Jesus are passages from God's Word. Israel wandered in the desert/ failed. Israel inherited the promised land and failed. Where Israel failed in the wilderness, Jesus was victorious! Adam and Eve were in the garden and failed. Adam and Eve had eternal life and failed. Where Adam and Eve failed in the garden, Jesus was victorious in the desert.
BAND->
APP> What does this mean for us?
1) You will be tempted. 1 Peter 4:12 " beloved, do not be surprised at the fiery trial when it comes upon you to test you, as though something strange were happening to you."
The question should not be 'will we be tempted?' the question should be 'what should I do when I am tempted?' 'who should I turn to when I am tempted?'
2) Jesus didn't just win this battle, He won the war.
Phil 2:8 "And being found in human form, he humbled himself by becoming obedient to the point of death, even death on a cross."
When it comes to temptation, Jesus' victory is my identity.
Hebrews 2:14-18
3) You CAN overcome temptation.
1 Corinthians 10:13 "no temptation has overtaken you except that which is common to mankind. And God is faithful, He will not let you be tempted beyond what you can bear. But when you are tempted He will also provide a way out so that you can endure it."
Go through it, not around it. The spirit of God sustained Jesus.