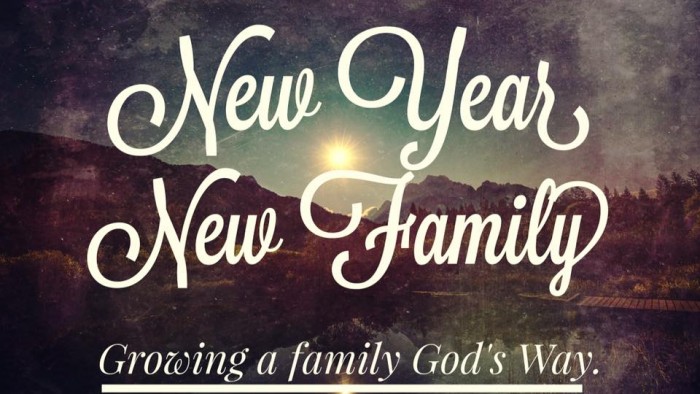 New Year New Family Part 5- Single 1 Corinthians 7
INTRO> We continue in our series "New Year New Family: Building a Family God's Way" today by addressing one of the most un-talked about things when talking about a home and or the family. And that's Singles. In God's sovereignty and his timing it just so happens to be Valentines Day as well, which is awesome.
TRANS> When talking about marriage and building a home it is almost as if marriage is assumed sometimes with in the church. But that isn't so for the first time ever in American history, single american's out number the married. 50.2% of Americans are single, that number in 1950 was only 22%. That is a big deal.
TRANS> And if I'm honest, i don't think the church as a whole has done a good job of handling the topic of singleness in the church but when you think about we should have the healthiest most biblical view on it because our founder… was… single. How has the church handled the topic of singleness.. Tim Keller in his book "The Meaning of Marriage" records common things "church" people say to singles and how it isn't good advice:
"As soon as you're satisfied with God alone, he'll being someone special into your life" – As though God's blessings are earned by our contentment.
" You're just to picky." – As though God is frustrated by our fickle desires.
" As a single you can commit yourself wholeheartedly to the Lord's Work" – As if God needs all single to move to Africa and be on mission.
" Before you can marry someone wonderful, the Lord has to make you someone wonderful." – As if we "earn" God's blessing.
CONTEXT> So what are we to do with this then? That's where 1 Corinthians 7 comes in. The church in Corinth was a young progressive church that asked Paul a lot of questions. One of the debates was, "is it better to be single or married?" Singleness was viewed as something bad. So Paul writes to them. –1 Corinthians 7:6 the word gift there is "charisma" same used in chap 12 for Spiritual Gifts given by God. Here is what Paul is saying :
Big Idea> Singleness is a gift given by God to be stewarded well.
TRANS> Now i know what some of you are saying… "uhhh… i need to return this gift" or… " how do i know that i have it" Are you single… good you got it. Paul gives us 4 reasons that singleness is a gift:
You're Exempt from some of life's struggles. 25-31
"those who are married have worldly troubles…" There is a lot of time language used in this passage. It is interesting that Paul is bringing up this idea of marriage to singles.
ILL> You remember we talked about marriage being "Oneness" That's great and all but what we never focus on when we are single is the other person's baggage. When you enter into marriage you are willing to take this on, sinful families, babies and uncles.  *bags
APP> Often times people who are single with a desire to get married focus on marriage so much that it's like tunnel vision they glorify it… and almost turn marriage into a ultimate thing and that's idolatry. Idolatry is when we take a GOOD thing and make it a GOD thing. You can do this both ways: Singleness or Marriage.
2) You're able to Engage the mission freely. v32-25.
"the unmarried man is anxious about the things of the Lord…"

 

Paul again is showing you a different side of what we normally don't think about.
ILL> John Stott was an Anglican minister years ago who made a major impact on Evangelical Christianity, he was single, he was good friends with Billy Graham. Billy Graham responded to a letter that John wrote and said, " Thank You for your November letter. Just reading it made me a bit exhausted! How do you do it my friend? If you had a wife, five children, five in-laws and 15 grandchildren. it would be rather difficult. Please forgive me if i am not able to keep up with you!."
APP> To see the Purpose of singleness change your Perspective.
Singleness doesn't mean selfishness: Serve.
Singleness doesn't mean loneliness: Community. 
3) You've got to exercise wisdom. 36-38
" If anyone think's he is not behaving properly…" This is a pretty controversial issue, Paul isn't just saying if you can't control yourself then get married, that's not the basis for any marriage at all.
APP> Notice was he say's in the text about using wisdom when thinking about marriage… "firmly established.. under no necessary…. determined in his heart…"
Do i have a desire to marry this person? (dating for marriage)

Does this person love Jesus? (you cant change people)

Where am I at in life? (Wisdom)

Where are they at in life? (wisdom)

What is my view on marriage?
4) Every believer will be married someday. v39-40
Notice how Paul talk about marriage as if it is temporary? That's because it is… marriage isn't ultimate… Remember, marriage is a mirror of the Gospel.
This is the good news of the Gospel… that Jesus has a bride the church.
"For your Maker is your husband, the LORD of hosts is his name; and the Holy One of Israel is your Redeemer, the God of the whole earth he is called. For the LORD has called you like a wife deserted and grieved in spirit, like a wife of youth when she is cast off.." I-saiah 54:5-6
"Let us rejoice and exult and give him the glory,for the marriage of the Lamb has come,  and his Bride has made herself ready; it was granted her to clothe herself with fine linen, bright and pure"—for the fine linen is the righteous deeds of the saints.And the angel said[a] to me, "Write this: Blessed are those who are invited to the marriage supper of the Lamb." And he said to me, "These are the true words of God." -Revelation 19:7-9
Big Idea > Singleness is a gift given by God to be stewarded well.