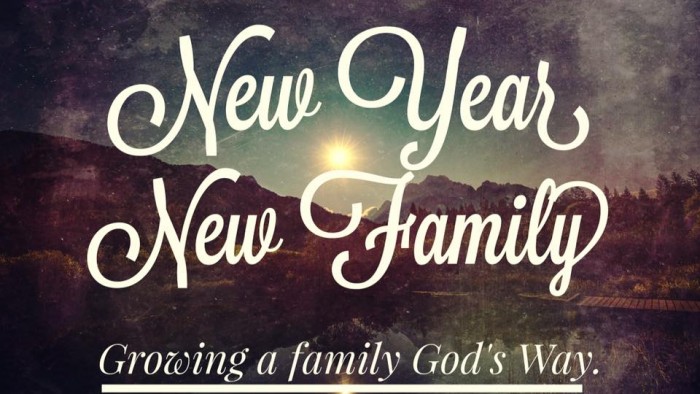 New Year New Family Part 6- "Biblical Parenting" Deut 6
INTRO> This is the last week in the series! We are closing out with the idea of Biblical Parenting. Huge deal, i am convinced that government, law enforcement, legislation, education, can't change our country like a gospel centered home can. I remember Nov 25th, 2012, like yesterday, we brought Roman our oldest son home. I remember the sweet nurse walking us out to the car and saying, "congratulations, you guys be safe… bye". I remember thinking… wait your not coming with us!
TRANS> That is scary, raising a child. Proverbs 29:18 " Where there is no vision, the people perish" (KJV) That's a true statement, and even a truer statement for the home and for your children. Just because you don't have a vision, the school system has a vision, your child's friends have a vision. What is a biblical vision for parenting? Here are some common errors:
Parenting is making my children successful.
Parenting is making my children happy.
Parenting is making the parent happy.
So then what is a biblical vision for parenting?
Big Idea > Biblical parenting is the process of passing down the gospel to your children.
CONTEXT> We are in the book of Deuteronomy, which is really 4 long sermons that Moses gives the people of Israel after God has reduced them from slavery and given them the 10 Commandments. Chapter 6 is Moses dressing the families and how they will lives. Verse's 1-3 is about the parent, and the rest is about the parent to the children. 5 principles for the Biblical home:
A) Parents: Love God Yourself. v1-3
"Lord commanded me to teach to you…" Do you see the progression and idea in the text, who is Moses talking to? The parents, the adults, the word "you or your" is used 11x in 2 verses. Then looks at v2 "you and your son and your sons son."
ILL> Being in student ministry, seeing the detachment.
APP> One of the things that i have found out about what makes parenting hard is that I am finding out things about myself. I thought i was a pretty selfless guy… until i had kids. I thought i was a patient guy… until i had kids… Now that my kids are getting older, I'm having to lean into God myself. Parents : You can't teach what you don't know and you can't lead where you don't go. How is your relationship with Jesus Christ.
Now the text shifts to what the parents need to teach their children:
Principle #1 :  Love God First. v4-5
" hear of Israel" this is what is know as the "shema" to the jews. they teach it to their children as the first word that they can speak. "the Lord is one… Love the Lord with.." this carries the idea that God is first and that we are to love him above all, with all that we have.
APP> This is crucial to understand. That in your home God is valued first and loved above all, that's your goal is parenting. Listen, the goal is not good children but godly children. It's not so much about behavior as it is belief. All the other goals are secondary. Look at v12-15, God knows that in the home other things will be valued. "Seek first the kingdom of God and his righteousness and all these things will be added unto you." Matthew 6:33 Eternity is at stake.
Principle #2 :  Love God's Word. v6-9
"these words.. shall be on your heart…" It is the very words of God that we are talking about here! How do we do this?
Teaching should be informal. v7 the word "diligently" means literally over and over again. This is every day activity. Watching a movie, pause it and say what's that like. Out in creation, who created all of this?
Teaching should be formal. v8-9 these are specific intention times of reading God's word as a family. Or a specific topic, teenagers, learn with them!
APP> The goal is a biblical worldview.
Principle #3 : Love God's Ways. v3 + v24
" that it

 

may go well with you" This is crucial to understand, especially in our culture where God's ways are viewed as bad!
When we speak of this… we have to speak of discipline. Hebrews 12:1 says that God disciplines those whom he loves, not punish but discipline. Discipline:
Privately.
Specifically.
Lovingly.
APP> God's ways don't take our joy, they take us to our joy. 
Principle #4 : Love God's Son. v20-25
"When your son asks you in time to come…" that's a very haunting statement isn't it… but how true is it? Your kids are gonna ask and they are going to buck against why you do what you do.
"we were slaves" Moses tells them… to tell the story
APP> I remember having the conversation with my father… who he was before Jesus… and who Jesus was to him. Parents: Tell the story.
CLOSE> What makes biblical parenting so tough is that… we can't save our children… but we have to entrust them to the LORD.
Big Idea> Biblical parenting is the process of passing down the gospel to your children.
ILL> Early in the 20th century, a Reporter asked the famous theologian, Karl Barth, to summarize his view of Church Doctrine. Now, Barth had completed 12 thick volumes on church doctrine, so he could have given an impressive Dissertation. He didn't. Instead, he simply replied, "Jesus loves me this I know, for the Bible tells me so."
What are your passing down?