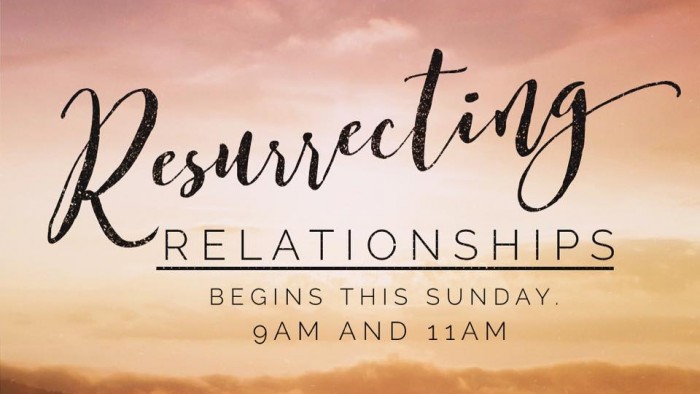 Resurrecting Relationships: Man and Woman Col 3:18-19
INTRO> We continue in our series looking at the idea, how the resurrection of Jesus Christ affects everything in our life. We have looked at our relationship with God, covered the topic of forgiveness. Today we look at how the resurrection of Jesus affects our marriage.
Trans> In order for us to do this, I want to go back and look at the first marriage between Adam and eve. Genesis 2:18-25:
"not good" relationship
"helper" used as the Hebrew for God
v24

– Gods design for marriage.
Genesis 3:
First thing Satan attacks, a marriage.

The blame game between man and woman.

v16

the distortion of roles because sin.
OT:
This covenantal language is used throughout the OT as God describes his relationship with his people. God talks about a day when he will come and get his bride.
Ephesians 5:32
"this mystery is profound, and I am saying that it refers to Christ and the church."
The Bible opens with a wedding and closes with a wedding.
Revelation 21:1-3
Then I saw a new heaven and a new earth, for the first heaven and the first earth had passed away, and the sea was no more. And I saw the holy city, new Jerusalem, coming down out of heaven from God, prepared as a bride adorned for her husband.  And I heard a loud voice from the throne saying, "Behold, the dwelling place  of God is with man. He will dwell with them, and they will be his people and God himself will be with them as their God
APP> Marriage is designed to display the beauty of God. This is a BIG deal. This isn't a romantic comedy, this isn't a feel good anything, this is to display the beauty of God. "Contemplate the many-sided ways in which the truth about God himself, and the truth about how we live out our most precious relationships, intertwine and create a God given beauty the world never dreams of." N.T. Wright, Paul for Everyone
CONTEXT> Which leads us to Colossians 3. Remember verses 1-4 "The Resurrected life". Paul is now going to show us the implications that this has on our marriages.
The resurrected wife submits to her husband.
"wives submit to your husbands…" I bet you don't wish that you had my job right now! Our culture hates words like authority and submission. This is also in Ephesians 5

,

Titus 2.

Lets look at what submission isn't and what it is:
Submission is not:
Submission is not inequality.
Submission is not absolute.
Submission is not silence.
Submission is:
Submission is a voluntary yielding that is motivated by love. *ILL> Round about on township line road.
"Submission points to the wife calling to honor and affirm her husbands leadership and help him exercise his role within the family. It is not an absolute surrender of her will, for Christ is her absolute authority, not her husband." – D.A. Carson
CONTEXT> Don't forget about the passage that we are in, there is a battle going on between the resurrected person and the "old person" APP> What does the resurrected wife battle?
APP> The Bible has the highest view of women.
Submission is the reflection of the gospel.

Jesus and the church!

Submission is a response to love.
2) The resurrected husband loves his wife.
"Husbands love your wives…" I know what you are thinking, wow, really that's it? Well we have to look at Jesus and the love that he had for his bride:
Sacrificing love. (Ephesians 5)
Initiating love. (Romans 5:8)
Protecting love. "harsh with them"
Cultivating love. Old English word for husband.
CONTEXT> Again, remember our passage with the battle of the old life and the new life. APP> What does the resurrected husband battle?
"The husband is the head of the wife just in so far as he is to her what Christ is to the Church – read on – and give his life for her (Eph. V, 25). This headship, then, is most fully embodied not in the husband we should all wish to be but in him whose marriage is most like a crucifixion; whose wife receives most and gives least," C.S. Lewis
APP> How is my marriage affected by the resurrection. Marriage is designed to display the beauty of God.
3 View on Marriage:
Carnal– Marriage is based on passion.
Contract– Marriage is based on performance
Covenant– Marriage is based on a future promise.
Big Idea> The resurrection reassures us that a covenant love can not be broken.
Q & A With Courtnee:
Courtnee, in 8 years of marriage and 3 kids what has Jesus shown you most about your role as a wife.
When it comes to submission what advice do you have for the women?
When it comes to marriage in general what advice do you have to men?