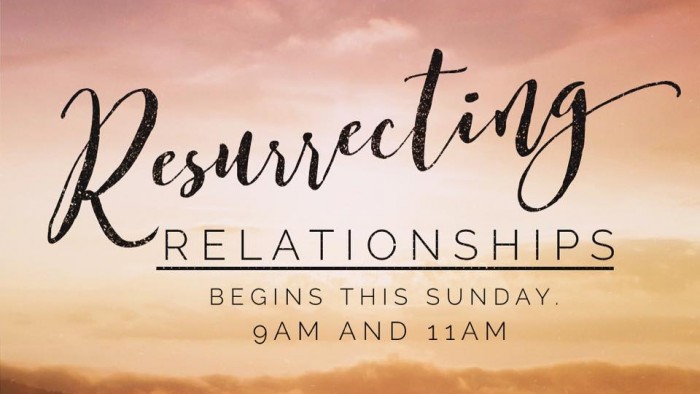 Resurrecting Relationships- Man and Work Colossians 3:22-4:1
INTRO> We continue in our series, "There is no relationship so dead that it can not be resurrected." Today we are talking about work…. really? How many of you have never heard a sermon about work before? *ILL> The reality is, I bet many of you feel like the greek God Sisyphus. yeah, exactly. Sisyphus was the king of (Corinth) in Greek mythology. He and Zeus got into about what ever God get into it about and Zeus punished him to an eternity of pushing a rock up a hill, watching it roll down, and back up again. (PIC)
TRANS> I'm sure many of you feel this way, does my work actually have purpose? Does the life death and resurrection of Jesus have anything to do with my work? My everyday? And the answer is Yes! But we have to go back to the beginning of Genesis to view work properly:
Genesis 1:
v1-3

– What do we see God doing? He is working!
Genesis 2:
v1-3

"work" used 3x

v5

"no man to work the ground"

v8

"God planted a garden…"

v15

" the man to work and keep the garden"
APP> Here is what God is showing us, If we are created in the image of God and God is a creator and worker then so are we. "God has deliberately arranged life in such a way that he needs the cooperation of human beings for the fulfillment of his purposes. He did not create the planet earth to be productive on it's own; human beings had to subdue and develop it. He did not plant a garden whose flowers would blossom and fruit ripen on their own; he appointed a gardener to cultivate the soil." John Stott, pg222 APP> In Genesis 1-2 Man lives so he can work.
Genesis 3:
v18- "cursed" thorn and thistles

v19 "sweat"
APP> In Genesis 3 man works so he can live.
CONTEXT> Which now leads us to our passage, but we have to do a little work, Paul tells us that this resurrected life affects our work, He uses the words, "salves and Masters" This is ancient literature Eastern and Western have different views, the word means "bondservant". Joseph was second under pharaoh in all of Egypt and was a "bondservant" the same with Daniel. This is equivalent to us as an empty and employer. We will see 3 things from our text.
The resurrection changes my purpose for work.
v24 "knowing that from the Lord you will receive the inheritance as your reward." Do you see what Paul is telling them? He is saying in Christ your work is so much more than temporal it is eternal.
ILL> I remember my first position as a youth pastor, Courtnee and I where so young, I made like $15,000 a year! Greg Steir spoke to youth pastors and I'll never forget wha the said, "You don't do this for the pay, you do this for the pay off."
APP> The purpose of our work is not a paycheck, the purpose of our work is a partnership in God's work.
This means all work will one day be complete.
There is no sacred and secular work.
*ILL> There is a story told about a man who came across a rock quarry in which a number of men where working and asked them what they where doing, The 1st man replied angrily "Can't you see I am hewing this stone." The second man answered "I am working for the pay check" begrudgingly. The last man replied with a smile on his face, "If you must know, I am helping build a cathedral."
2) The resurrection changes my performance at work.
v22 "but with sincerity or heart" v23 "work heartily" The word sincerity means "generously" The NIV says "work with all of your heart"
Do you see how he tell us not to work? "eye service" or "people pleasures" This is literally saying you only work when the your boss is around and or watching you.
APP> As a Christian you don't just work for you boss, you work for your bosses boss, Jesus Christ.  Jesus Christ is always watching he is always around. "So, whether you eat or drink, or whatever you do, do all to the glory of God."1 Corinthians 10:31 Christians should be the hardest workers the best workers! "If a man is called to be a street sweeper, he should sweep streets even as a Michaelangelo painted, or Beethoven composed music or Shakespeare wrote poetry. He should sweep streets so well that all the hosts of heaven and earth will pause to say, 'Here lived a great street sweeper who did his job well."- Martin Luther King Jr.
APP> I know what you are saying, "Jason I work hard, and for a boss and a world that isn't fair." look at verse 25 APP> The return of Jesus reassures us that none get's away with anything.
3) The resurrection gives me power for work.
Do you see how many times Paul mentions "the lord" in 5 verses he mentions him 5 times! Why would he do this.

Paul is giving us a motivation for our work, to look to Jesus Christ, who did the greatest work, on the cross.
"When Jesus had received the sour wine, he said, "it is finished," and bowed his head and gave up his spirit." John 19:30
APP> Do you see? Jesus has done the greatest work, and he did it to it's completion with the greatest effort! He did says , "well that's good enough." Or "That will get them by" He said that it was done. And now look at verses 1-4 again.
Big Idea > In light of the resurrection we view all work as God's work.
"If all Christians displayed the characteristic of relationship as embodied in the principles of this text, the result would be dramatic. Believers would indeed become lights shinning in the darkness." – John Macarthur.
APP Questions:
Are you working to live or living to work?
Do you need to repent of being a lazy worker?
Do you know the greatest work that has been accomplished for you?