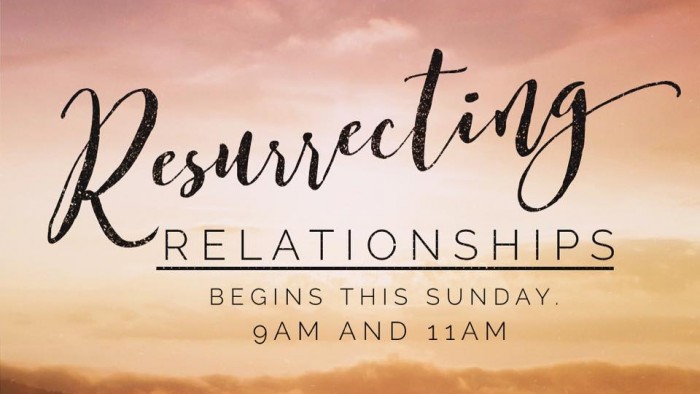 Resurrecting Relationships: Man & Church Hebrews 10:19-25
INTRO> Review, we continue in our series. "No relationship so dead that it can not be resurrected." Today we are looking at : Man & Church *ILL> In April of 2012, News Week ran their magazine with this as the front cover (Pic) Here is an expert from this article, the article is written by Andrew Sullivan and in it he uses the word "simple" 21 times. And he basically says that you can do this thing called Christianity, apart from the church.
TRANS> There is a slight problem with that, and it's called the Bible and Jesus own words.
"And I tell you, you are Peter, and on this rock I will build my church and the gates of hell shall not prevail against it." Matthew 16:18
"Husbands, love your wives, as Christ loved the church and gave himself up for her." Ephesians 5:25
The word that is used for church is the greek word "Ekklesia" and it it a really cool word. It literally means a called about people, who live in a different kingdom.
APP> So as we see, the Bible itself can't even get behind this concept. Now, granted the church has it's problems, West Side itself isn't perfect, by any means! Which leads us to our passage in Hebrews.
CONTEXT> Do you see how are passage starts, with the word "Therefore" That's important. In the previous chapter the writer is talking about how Jesus is awesome and how through his death, we, as a community of people have access to God in a new way. "But when Christ had offered for all time a single sacrifice for sins, he sat down at the right hand of the Father, waiting from that time until his enemies should be made a footstool for his feet" Hebrews 10:12-13 Now this verse implies the death, resurrection and return of Jesus! Then the author moves into the community of faith. We will see 1) What does this relationship with the church look like? 2) Why do I need this relationship? 3) How does all of this work?
What does my relationship with the church look like?
First

of all I want you to notice the plurality of language in the text. I count 10x

Secondly

the key word is in

v25, that word "meet" is the word episynagōgē in the greek, it's a HUGE word. It's actually where we get the our word "synagoge" from and which is where we get the word congregation from as well.

This is important let me see if i can illustrate there is a difference in a congregation and a crowd.
Crowd
A Crowd is like a bag of marbles (Pic) There are all individuals who gather in one place BUT just like this bag of marbles no matter how much you press and try to make them one, they will always be separate and not connected. Many people think church is like that. "Here is the church here is the steeple open the doors and see all God's people" That's wrong. APP> The church is not a place the church is a people.
Congregation
This word and the Bibles teaching is that a congregation isn't like a bag of marbles, rather it is like a cluster of grapes. There are individual grapes but they are deeply connected together, they grow together We see this in the phrase "one another" . APP> The church is a diversity of people that are a unity of people deeply connected by Jesus Christ.
2) Why do I need this relationship?
Do you see how the passage unfolds? The writer is telling us that we have a new access, a direct line to God! Moses would be SO jealous of us! But do you see how he tells us that we can get to that access? Verse 19-23 are all about the acres, then v 24 tells us that we get this through … other people.
APP> One of the primary ways that you experience the power of God is through the people of God.
C.S. Lewis (Pic) put it this way in his book Mere Christianity; "Christians are Christ's body, the organism through which He works. Every addition to that body enables Him to do more, if you want to help those outside you must add your own little cell to the body of Christ who alone can help them. Cutting off a man's fingers would be an odd way of getting him to do more work." pg64
Where is this work seen? v24
By considering one another.
By stirring one another. (this word means to irritate, agitate, the church gives you what you need not what you want.)
By encouraging one another.
By meeting together. (This doesn't mean just Sunday, this is why we have community groups, conferences, dinners, its to come together.)
3) How does all of this work?
What drives all of this? What is the motivation? How can this community of people keep going and growing and continue to grow?

The answer is in

v19 "by the blood of Jesus Christ.." Do you see? How can this change happen in our life how can we be in the community where we don't have to base things on our social status or jobs or last names? It's by the gospel?

" And about the ninth hour Jesus cried out with a loud voice, saying, Eli Eli lema sabachthani?" that is, "My God, my God, why have you forsaken me?" Matthew 27:46
APP> Jesus was rejected so we could be accepted.
Big Idea > The resurrection of Jesus Christ reveals that our relationship with God is lived out in our relationships with each other.
APP>
Are you positioning yourself around God's people to experience God's power?
Are you a consumer or a contributor?
Do you know the acceptance found in Jesus Christ?