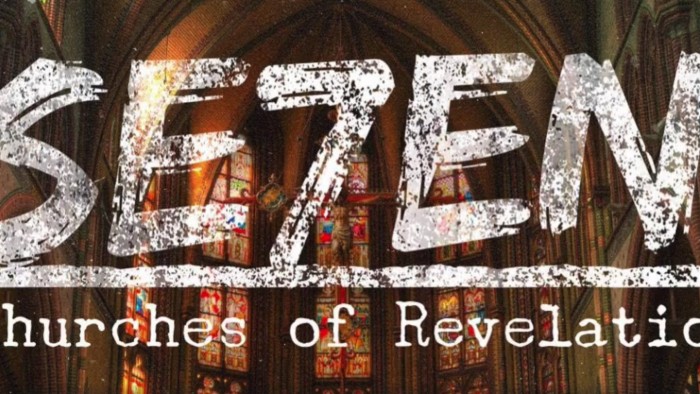 SE7EN Series: Part 4: Pergamum Revelation 2:12-17
INTRO> It was October of 1977 and Paul Simon the writing genius of the group "Simon and Garfunkel" released his single for his albums "Greatest Hits Etc." Which was entitled "Slip Sliding Away" Here is the chorus and last verse Chorus "Slip slidin' away Slip slidin' away You know the nearer your destination the more you're slip slidin' away." Last Verse: "God only knows God makes his plan, The information's unavailable To the mortal man, We're working our jobs Collect our pay, Believe we're gliding down the highway, When in fact we're slip slidin' away."
TRANS> If there could have been a theme song for the Church in Pergamum, it would be that, the dangers of how easily a church can slip away and compromise to a worldly standard.
Big Idea> You are close to compromise when you value cultural approval over biblical convictions.
CONTEXT>
Pergamum was 50 miles Northeast of Smyrna. Elevated.(Pic)

Pergamum was known for catering to the mind, body and soul.

(Mind)It had a library of over 200,000 books, made its own paper. Many philosophers.

(Body) It was a source for many medicines and medical practice. It had a Shrine to the healing God, Asclepius (Pic) which is where we get our medical symbols from (Pic)

(Soul) Pergamum was the Roman capital of the Asia Minor area, think of it as a county seat.(Pic) It had the earliest temple to the state sponsored worship of Rome. And also had the altar to the greek God Zesus. (Pic)
We see our normal pattern in this letter, credentials, compliment, correction command. Lets take a look at these.
The Compliment. v13
Location. "I know where you dwell, satins throne" There is a lot of controversy over what this means, Satan didn't really have a throne there sitting. I think it refers to Pergamum being a county seat for Rome and the Roman empire.
APP> This is important to note that Jesus knows how hard it is for some of us. Also, prominent locations and position matter to God. Your job, where you live your influence, all that matters.
  B.  Dedication. "Yet you hold fast my name.." I love that Jesus mentions that its his name. Jesus' name is what matters. "God" could mean anything to anyone, but when you mention "Jesus" things get sticky.
APP> This is the tension for us as Christians isn't it, to be in the world around the culture but not of the culture or hold it's values. 
"I have given them your word, and the world has hated them because they are not of the world, just as I am not of the world. I do not ask that you take them out of the world, but that you keep them from the evil one." John 17:14-15
Charles Spurgeon said this about worldliness in the church: "I believe that one reason why the church of God at this present time has so little influence over the world is because the world has so much influence over the church." Put your finger on any prosperous page in the Church's history, and I will find a little marginal note reading thus: "In this age men could readily see where the church began and where the world ended." Never were there good times when the church and the world were joined in marriage with one another. The more the Church is distinct from the world in her acts and in her maxims, the more true is her testimony for Christ, and the more potent is her witness against sin."
2) The Correction. v14-15
Belief. "hold the teaching of Balaam.." interesting the word "hold" there means to hold fast and not let go of. Jesus refers back to an OT story in Numbers 22-25 where a false prompt by the name of Balaam tried to curse the people of God but it didn't work. So instead he told the people of Israel that they could marry forge in women and worship foreign God's. Essentially he told them that they could compromise.
Behavior. "eat food sacrificed to idols, sexual immorality" This food was apart of pagan worship so there was no way to eat this food, and not be apart of a demonic worship service. Sexual immorality refers to "any unlawful sexual practice."
APP> Notice the order that these come in. What we believe determines how we behave. Belief is the root, behavior is the fruit. This is at the source of all sin…. that we believe something other than Jesus can satisfy us. And that's where compromise comes in.
Big Idea> You are close to compromise when you value cultural approval over biblical convictions.
APP> Which leads to this part, what are the convictions that we hold that we cannot comprise on?
3) The Convictions.
The prominence of God's Son: Jesus.v13

If we have learned anything from the book of Revelation so far it's that, Jesus is the main figure. He mentions "his name". It's all about Jesus!

The power of God's Word: The Bible

.

v12

The "double edge" sword that Jesus is referring to, is the very word of God.

"For the word of God is living and active, sharper than any two-edged sword, piercing to the division of soul and of spirit, of joints and of marrow, and discerning the thoughts and intentions of the heart.

 

And no creature is hidden from his sight, but all are naked and exposed to the eyes of him to whom we must give account." Hebrews 4:12-13
The purity of God's Church: holiness v16 Holiness means to be set apart, like God. This is a strong statement but it's a statement that is made out of love. Remember God is after your heart not just your behavior. This is a loving stament. *ILL> When sickness came through our house, the smell of bleach stung my eyes. Cleanings ourselves from sin, stings.
The promise of God's Love: Grace v17

Yes! This is the best part, this is the jewel in the crown! These are out convictions, we are a people of love! "White Stone" many people talk about this all the time what does it mean.(1) We know that often times when two parties had a conflict they would meet together, resolve that conflict, they would make a covenant with a white stone, break it and keep each half as a symbol of their part. (2)Also, when somone was judged they either received a black stone or a white stone. With a new name, new identity in Christ.
Close> You know what i realized when writing this this week, we are all failures at this, we have all compromised in some sort of way, but the good news of the gospel is that Jesus received the black stone for us, so we could receive the white stone. to be justified means that God looks at us and says NOT GUILTY!
When you come and take communion, have a time of reflection and confession.
After communion take a white stone, carry it with you this week as a reminder to never compromise because of your new identity.