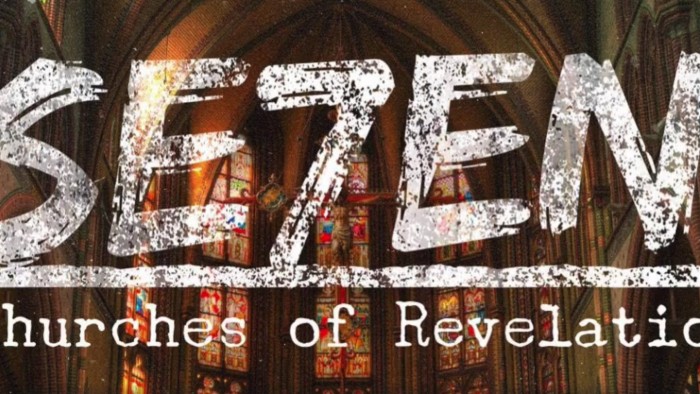 SE7EN Series Part 5: Tolerant in Thyatira
INTRO> Review. This past summer we had to take Roman up to STL to get his eyes checked out. We where referred to a specialist. I called a friend who is an optometrist and asked about the guy, he said, "man, he's on of the best" As we walked into the doctors office I looked on the wall and saw diploma after diploma, certificate after certificate. He was great and needless to say, He was qualified.
TRANS> That's sort of like today. Jesus is going to say some hard things today, but in the first verse he gives his credentials. Jesus is qualified to say these things to us today.
TRANS> I also need to preface something today. This is a letter to a church, to believers. People who claim the name of Christ, have been baptized, partake in communion and are part of a local body. This isn't about "the world" because sinners act like sinners.
"For it is time for judgment to begin at the household of God; and if it begins with us, what will be the outcome for those who do not obey the gospel of God?" 1 Peter 4:17 This isn't for punishment this is for purifying.  2 Corinth 7:8-10
"Put to death therefore what is earthly in you…" Colossians 3:5
"For if you live according to the flesh you will die, but if by the Spirit you put to death the deeds of the body, you will live." Romans 8:13
Big Idea> As a christian am I tolerating what I should be terminating in my life? 
CONTEXT>
Thyatira is the smallest city but the longest letter.

It was known for trade and producing purple clothes and the smelting of medals and bronze.

It was known for its "work guilds" like a labor union but mixed with immorality and pagan worship.
Who's asking?. v18
His position. "the son of God" this is the only time in the book of Revelation that this title is used. Thyatira had a temple there to Apollo, the "sun God" (Pic) It's almost like Jesus is being sarcastic here.
His power. "eyes like a flame of fire, feet like bronze"
Interesting, thyatira would have been known for it's working metals and such. Bronze was one of the strongest known metals at the time. We said that this means, jesus is stable he is reigning but he is also seeing everything as well.
"i know your works.." v19

Jesus knows what happening in his church. I love the fact that a church should have it's greatest days ahead of it, not behind it.
APP> That's who's asking. Jesus has the credentials to critique his church.
2) What's the problem?v20-23
"I have this against you, that you tolerate.." Okay I have to do a little work here, I know what some of you are saying, aren't Christians tolerant people? Yes and Now.
Tolerance is not:
Accepting a false belief as truth.
Approving wrong behavior as right.
Tolerance is:
Acknowledging that everyone is created in the image and likeness of God.
Acting in love and grace.
APP> True love cannot be totally tolerant.
"Tolerance says, "You must approve of what I do." Love responds, "I must do something harder; I will love you, even when your behavior offends me."Tolerance says, "You must agree with me." Love responds, "I must do something harder; I will tell you the truth, because I am convinced that 'the truth will set you free.'"Tolerance says, "You must allow me to have my way." Love responds, "I must do something harder; I will plead with you to follow the right way, because I believe you are worth the risk."
Tolerance seeks to be inoffensive; love takes risks. Tolerance glorifies division; love seeks unity. Tolerance costs nothing; love costs everything." – Josh McDowell
Big Idea> As a christian am I tolerating what I should be terminating in my life? 
APP> What are they specifically tolerating?Sexual Sin. In my years of ministry, this isn't A problem in the church its THE problem in the church.
3)How does this happen?
Sexual sin begins with deception.v20 "Jezebel.. teaching and seducing my servants" Jezebel was a bad woman. She married king Ahab in the OT, 1 Kings 16. There was somoneThere who was claiming to have a word from God and teaching immoral things, lies. Sin always begins with this lie.. "God is holding out on you…" Genesis 3.
Sexual sin continues by hardening your heart.v21 "I gave her time to repent.." How much time? We don't know. Don't take God patience as passivity. Today is the day of salvation, none is promised tomrrow!
Sexual sin always has consequences

.

v22 "I will throw her onto a sick bed… tribulation… strike her children (followers) dead" These are strong words, but remember, it's strong language like a loving father warming his child. Sexual sin always has consequences, always, because you always hurt another person. The wages of sin is death.. Romans 3:23 Remember there is a difference in punishment and discipline. *ILL> Roman sliding down the slide.
4) How can I overcome this?v24-27
Repent of sin. v21,22 "repent" This has been the theme in the letters, repentance. Repentance is turning from your sin and trusting in Christ. Turn from this, see Sin for what it is and see Jesus for who he is.
Return to the Gospel. v25 "Hold fast what you have" What else do we have but the Gospel!
Receive forgiveness.v28

"and i will give him the morning star" What is the morning star?

"I, Jesus, have sent my angel to testify to you about these things for the churches. I am the root and the descendant of David, the bright morning star."

The morning star shines right before dawn, which is also the darkness time… don't give up! The gospel shines the brightest when our lives are the darkest!
On Thursday Evening June 27th 18189 Spurgeon said "Our reward will not be of debt, but of grace; it is grace that gave us the service, and grace that will reward us for our service; but no man and no woman shall serve the Lord Jesus Christ here on earth by following him, without finding that the Father has some special honor, some rich and rare reward, to give to such soldiers in due time. This is the fighting day, expect nothing now but bullets, bruises, wounds, scars; but the battle will soon be over, and when the war is ended, the King will come, and ride up and down the ranks, and in that day you who have been most battered and most wounded in the battle shall find him pause when he reaches you, and he will fasten on your breast a star that shall be more honor to you than all the Victoria Crosses that have decorated brave men here below. Stars and garters they may have who want them, but blessed are they who shall shine as the stars in the kingdom of our Father! And this honor is to be had by that believer who will faithfully serve his Lord; not by any who merely talk about it, or dream of it, or propose to do it, but to those who serve him by following him this honor shall be given."
Big Idea> As a christian am I tolerating what I should be terminating in my life?