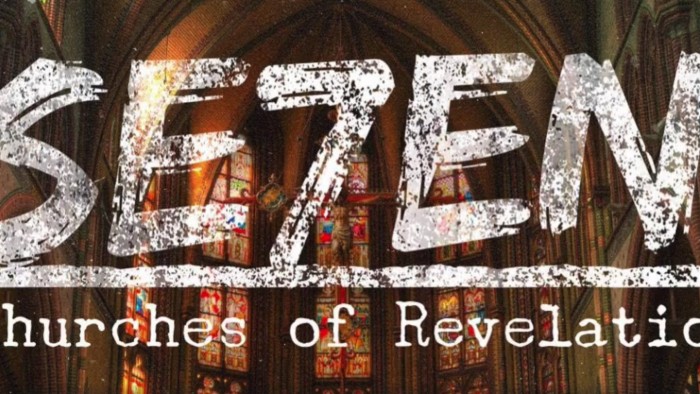 SE7EN Series Part2 : Ephesus Revelation 2:1-7
INTRO> The year was 1964 and the "Righteous Brothers" came out with their first hit, produced by Phil Spector. According to BMI music publishing this song was played on American radio and television more times than any other song in the 20th century, it has over 8 million plays on radio since the time it was released up until 2000, Do you know it yet? It has been reordered by Elvis, Hall & Oats. Do you know it yet? It was made famous again in 1984 when a young Tom Cruise sang it to woo a young lady in the Movie Top Gun…. "You've Lost that Loving Feeling." *See lyrics on separate sheet
TRANS> If there was every a theme song and or an anthem for the Church of Ephesus, that would be it. That something beautiful is dying… that you've lost that loving feeling.
CONTEXT: Before we learn about the church of Ephesus we need to learn about Ephesus itself:
Population around 500,000

The metropolis of Asia Minor

25,000 person theater (Pic)

The worship of Diana, temple (Pic)

The city hosted athletic events that rivaled the olympics.
*We see the church in Ephesus arise in Acts 18-19, a literal revival breaks out and people are burning their idols!
TRANS> Our outline today is going to follow the way Jesus dresses each church, Jesus has 3 main points, it's biblical. He compliments the church, he corrects the church and he commands the church.
The Compliment. v1-3
There were 3 areas that Jesus compliments the church on:
Faithful deeds. "your toil" – the word means labor until exhaustion. One can only imagine how much this church did for such a large city. Feeding the hungry, taking care of the homeless etc.
Faithful devotion. "your patient endurance" With the city as large as it was and that many false God's the Christians faced harsh persecution. John Stott says, "later in the book a "beast" requires the none could buy or sell anything unless they bore the mark "of the beast". This probably means that if you didn't worship the emperor or even Dianna, you and your community where boycotted and excommunicated." John Stott, pg24
Faithful Doctrine. "you cannot bear evil.." They carried big bibles in Ephesus, they read a lot of dead guys, the loved words like heresy, apostasy and orthodoxy. What a awesome compliment to get from Jesus!
2) The Correction. v4
"but this I have against you you have abandoned your first love…" Man, could you imagine hearing that read in the church in Ephesus. The word abandoned means, to move away from.
APP> This begs a question though, what was the first love? Jesus doesn't say "you lost your love for me"… Well lets go back to the book of Ephesians and see what this love is:
"

For this reason, because I have heard of your faith in the Lord Jesus and your love toward all the saints" Ephesians 1:14
"..with all humility and gentleness, with patience, bearing with one another in love," Ephesians 4:2
"Be kind to one another, tenderhearted, forgiving one another, as God in Christ forgave you." Ephesians 4:32
The Apostle John who was an elder at the church in Ephesus writes to the churches saying:
"For this is the message that you have heard from the beginning, that we should love one another." 1 John 3:11
"If anyone says, "I love God," and hates his brother, he is a liar; for he who does not love his brother whom he has seen cannot love God whom he has not seen.

 

And this commandment we have from him: whoever loves God must also love his brother."
Jesus himself tells his disciples this…
"A new commandment I give to you, that you love one another: just as I have loved you, you also are to love one another.By this all people will know that you are my disciples, if you have love for one another." John 13:34
APP> It wasn't just a general love for Jesus that they lost. At Ephesus they were ready to fight false doctrine together but not know each other…
Big Idea> Your love for God above you, is measured by your love for the person beside you.
*ILL> Roman saying he loves me after getting in trouble for being mean to his sister
APP> This is why we have community groups, this is why we have church events, this is why we want you to live life together. Get connected in lobby today.
3) The Command.v5
Remember the Gospel: "remember from where you have fallen" Remember what you where before Christ , dead, hostile an enemy of God.
Repent of sin.

This word means to have a change of mind and direction BECAUSE OF THE GOSPEL! In light of that, do this! Repent of your lack of love for another!

Return to the work of the Gospel. "do the works you did at first…" Which was all motivated by the good news! We never move past the Gospel! The same gospel that saves us is the same gospel that saves us! Our salvation is our motivation!
APP> What happens if i don't .. "i will come and remove your lampstand" Jesus is speaking to their influence and effect in that city.. and you know what? We hear nothing about this church anymore and there isn't a Christian church in that city to this day!
Look at this motivation: "I will grant him to eat of the tree of life which is in the paradise of God." Interesting enough, history tells us that in the temple of Dianna there was a tree shrine in it and history tells us that if a criminal ran into the temple they could find asylum or salvation from Judgment. Another interesting note comes from John's use of Greek here. In the Greek translation of the Hebrew Scriptures, the Septuagint,, xulon (which is used to denote dead wood) is used less often, as in the case of Deuteronomy 21:23, where God describes anyone hung on a tree – xulon – is cursed. This is the same word used for Jesus being hung on a tree – xulon. And so it is, when John describes the tree of life in the paradise of God, the tree (xulon) of life is the cross!
Big Idea> Your love for God above you, is measured by your love for the person beside you.