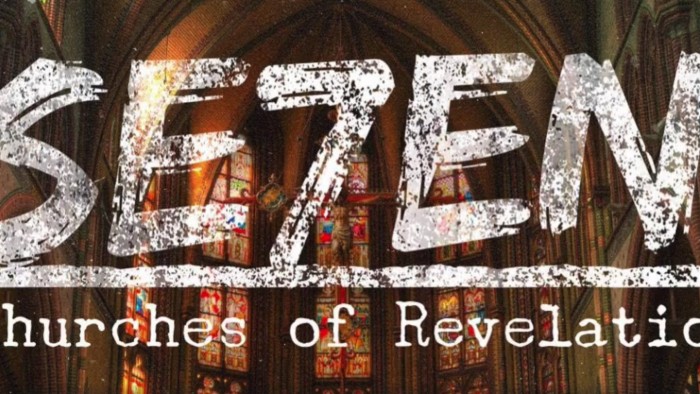 SE7EN Series: Smyrna "Suffering Saints" Revelation 2:8-11
INTRO> I would like to start today with a prayer, listen to these words : "Father of Your beloved and blessed Son Jesus Christ, through whom we have received the knowledge of You, I bless You that You have counted me worthy of this day and hour, that I might be in the number of the martyrs. Among these may I be received before You today in a rich and acceptable sacrifice, as You have beforehand prepared and revealed. Wherefore I also praise You also for everything; I bless You; I glorify You, through the eternal High Priest Jesus Christ, Your beloved Son, through whom, with Him, in the Holy Spirit, be glory unto You both now and for the ages to come. Amen." This is a very famous prayer, prayed by the early church father, Polycarp (Show Pic) Who was a pastor at the church in Smyrna and studied under The Apostle John.
CONTEXT> The church that we are studying today has a rich history (modern day Izmar, Turkey):
It's history goes back as far as 3,000 BC.

It rivaled Ephesus in beauty and wealth.

On the coins it says "first in Asia in beauty" (Pic).

Was said to have "streets of gold" actual marble.

Was massively loyal to Rome, Temple Tiberus (pic)

Was considered the "worship capital" of Rome.

During the time of the letter under Domination (pic)

These Christians were facing violent persecution by the Roman govermant, and the Jewish people as well.

v9

This is one of the only churches with no correction.
TRANS> As I was studying this week, i couldn't get past this fact: We don't suffer and face persecution like this, why? It's actually the one thing that is promised in all of scripture. "Indeed, all who desire to live a godly life in Christ Jesus will be persecuted." 2 Timothy 4:12 A NT scholar and a hero of mine, John Stott says this : "Christ's moral standards are unpopular- honesty in business, purity before marriage and fidelity after it, contentment in place of covetousness, self control and self sacrifice. If the church were to maintain such standards, it would find itself where it really belongs- outside the gate and in the wilderness. But fear of the world has ensnared us. Our tendency is to dilute the gospel and to lower our standards in order not to give offense. We love the praise of our fellow human beings more than the praise of God. I am not recommending that we develop a martyr complex or that we court opposition. I am saying that if we compromised less, we would undoubtedly suffer more. Smyrna was a suffering church because it was an uncompromising church." John Stott, 43
APP> So first and foremost as we study this church it is a call to never compromise! But it we are to do that, we need to know something about this Jesus that we are standing for, Which is what Jesus shows the church.
Big Idea> You must see Jesus as precious to persevere under persecution.
Jesus' victory over death. v8b
"who died and came to life.." How encouraging is it to her that when death is literally knocking at the door! We have to understand that Christianity is a movement birth by a man rising from the grave! Most men live and die, Jesus died and lives!
APP> "The resurrection of Christ tells us that if we believe in Him, then we need not panic. We need not wring our hands, asking, "What shall we do?" It is true that we are concerned and burdened, and it is certain that we will pray to God, but we do not cry out in terror as others do." -Billy Graham We are free from the fear of death!
2) Jesus' intimacy with suffering. v9
" I know your tribulation and your poverty and the slander" Now think about these words… "I Know…" Who has more credibility to say these words than Jesus?
APP> Broken Family, Jesus knows. Poverty, Jesus knows. Death of a loved one, Jesus knows. Slander, Jesus Knows. Betrayal from a loved one, Jesus knows. Physical suffering, Jesus knows. Abandonment, Jesus knows. This is what makes Christianity so appealing, this is what the incarnation matters. God can actually say to you, "I know."
3) Jesus sovereignty over circumstances. v10
"Do not fear what you are about to suffer.."
"Do not fear what you are about to suffer.." Could you imagine hearing that? They didn't know, until Jesus told them. We see two major things about God & suffering.
God has a purpose in my suffering. "to be tested" There are two words for tested, good and bad. this good.
"Count it all joy, my brothers, when you meet trials of various kinds, for you know that the testing of your faith produces steadfastness. And let steadfastness have its full effect, that you may be perfect and complete, lacking in nothing." Jame 1:2-4 APP> The purpose of trials is the perfecting of faith. "A Faith that hasn't been tested is a faith that can not be trusted." Charles Spurgeon.
B. God has a plan in my suffering. "for ten days you will have tribulation" Isn't it interesting that God say's that Satan is doing this but God seems to be even in control of Satan! Just because you don't know the reason doesn't mean there isn't one!
4) Jesus mercy towards humanity. v10b
"I will give you the crown of life" The people in smyrna would have understood what Jesus was referencing. Almost like in the greek games, when someone wins a race they would get a crow. Remember who Jesus is talking too, these aren't perfect people… they are forgiven people.
APP> Jesus' mercy and grace outweighs your sin and rebellion.
So what does all of these mean? When we don't compromise and bear persecution for Christ's sake, how can we face persecution?
Big Idea> You must see Jesus as precious to persevere under persecution.
Close> This is a picture of Saeed Abendini,(Pic) who was in the new a lot in 2016, he was a Christian pastor in Iran and served 4 years in prison for his faith. While he was in prison his son, Jacob turned 7 years old, and wrote his Dad a birthday invitation (Pic). Said wrote back to his son from prison, here is his letter:
"To my dear beloved son Jacob,
I saw your beautiful birthday invitation that you had made me and I know how much you want me to be there on your birthday. Daddy loves you so much.  I long to be there for your birthday and to make this reunion happen, but my chains are keeping me from you.
I want you to know that although I might NOT BE THERE and you might feel my absence, there is One who always IS. One who is always there with you and who can meet all of your needs under any condition. I might not be there on your birthday and that breaks my heart as your father. But I know the One who is there on your birthday who is there for you and cares for you more than anyone could imagine. HE IS THERE with you and His name is I AM WHO I AM.
I AM WHO I AM. It means that God is there with you in every situation that you are going through. This is the name that God introduced Himself when meeting with Moses in the burning bush when God's people were crying out to Him and were feeling His absence. Today there are many people around the world who are experiencing the same things that the people of God were experiencing and that you are experiencing. They are crying out to God and might not be feeling His Presence. They are wondering where is God in all of this. But I want you to remember that despite what you feel, He is always there with you.
Even though I AM NOT there with you, I AM is there with you. God came in human flesh in Jesus Christ all the way from heaven to the earth to give us the gift of salvation by being crucified on the cross for the punishment of our sin. So on this special day, I want you to accept this gift of salvation. Invite Jesus into your heart as you have invited me to your birthday.
So happy birthday to my big boy and my hero, Jacob Cyrus Abedini. Thank you for standing strong with me in this battle for the Glory of our Lord and Savior Jesus Christ.
Your proud Dad,
Saeed
Big Idea> You must see Jesus as precious to persevere under persecution.
APP> Questions:
Do I see Jesus as the most valuable thing in my life?
What would I fear losing in my life the most? (compromise)