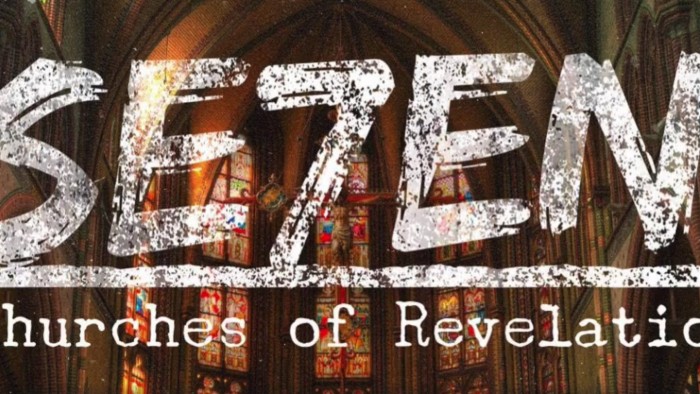 SE7VEN Series: "The " Revelation 1:9-20
INTRO> I'll never forget the opening night of the play "42nd Street" my freshman year of high school. I landed to tap dance directer "Andy Lee" We had rehired for months! The crowd talking, the music started, "I yelled lift those feet up!" Then… the curtain pulled back to reveal the crowd!
TRANS> That is very similar to the very first line in Revelation Chapter 1:1 "the Revelation"… its the greek word "apocalypse". We use that word in a negative sense, but it's not understood that way, you could say that opening night was an "apocalypse". Today we are starting a series on the 7 churches of the book of Revelation. WHY? Because we need a good look at Jesus and Jesus needs to take a good look at us. Before we do that we need to take some time and build the context around the book:
Genre: Letter/Prophetic – "Prophecy not only as a divine prediction of future events but also as divine diagnosis of the present state of affiars" – ESV Study Bible Uses more OT citations than any other book in the NT!
Author: John v9 – John THE disciple Jesus loved. He is old and has outlived all the other Apostles. He was THE authority in the NT church. Fox book of Martyrs tells us that he was boiled alive, didn't die and was banished to the island of Patmos (Show Pic)
Date: 94-96 A.D or 54-68 A.D (One of the most attested ancient manuscripts we have)
Audience: The Seven Churches v11 v20 "lamp stands" Now found in modern day Turkey (*Show Pic) ALL cities has been excavated and accounted for.Who where undergoing horrible perfection for the Roman government under Nero and Emperor Domination Roman reign. (Show Pic)
Subject: Jesus! v1 If your reading Revelation first and foremost to find out how the world ends, you are reading it wrong! It is first and foremost the greatest NT picture of the resurrected Jesus that we have!
"A Church with it's back to the wall, fighting for survival, needs more than moral exhortation and humble encouragement; it must see Christ…the whole book concerns him. Nobody can read it without gaining a clearer view of him." John Stott, pg14 So let's get into it.. v9
Jesus is present with his church. v13b

"and in the midst of the lamp stands" The lamp stands don't give off a light of their own, they need light! Also, John is reminding them that Jesus is present with them and among them!
APP> 1) Jesus is committed to his church, Are you? 2) Jesus presence always brings peace.
2) Jesus is king of his church. v13c
Let this vision sink in… it is a beautiful picture of the resurrected christ. "son of man" is from Dan 7-10
"with a long robe and with a golden sash around his chest" This has a picture of a great high priest in OT language. APP>The priest made the sacrifice for people. The priest brought God to the people and the people to God.
"the hairs of his head were white.." this again is an OT image and description of God who is called "the ancient of days" in the book of Daniel. It also represents wisdom APP> Jesus caries the exact imprint and characteristic of God the Father.
"his eyes where like the flam of fire" this represent judgment and seeing through and knowing everything.Jesus doesn't just look at you, he looks into you.
"his feet where like burnished bronze,refined in a furnace" this represent his kingship and authority that he rules and reigns.It also shows his stability. Everything changes, Jesus doesn't change!
"his voice" is authority!
"right hand holds the seven stars" he tells us in verse 20, these are the angles. Maybe pastors, maybe messengers maybe angles. It shows that Jesus is sovereign over everything!
"his mouth a two edged sword" this again is judgment. The Word of God will judge the earth. The Roman sword verses God's sword!
"his face was like the sun shinning in full strength" This shows the holiness and purity of Jesus!
APP> Is this my Jesus? No more wimpy Jesus! Is this how you think of Jesus? ""The first time [Christ] came to slay sin in men. The second time He will come to slay men in sin."― Arthur W. Pink
What's the proper response to this? v17, falling down dead.
3) Jesus is the victor for his church.
"I am the first and the last, and the living one.." this is possibly one of the greatest verses in all of the bible!
*ILL> This is a picture (Show Pic) of St. Elias Maronite Cathedral which was built in 1873 which is located in Syria, which has been over the past years ground zero for the war on terrisom. Pictures over the internet like these (Show Pic), of them worshipping on Christmas Day of the christians worshipping in the destroyed chapel.
APP>You can't stop Jesus and you can't stop his church! If Jesus lives… his church lives… If Jesus lives… his people live!
What does all of this mean for the churches? What does this mean for us as a church.
Big Idea> A correct view of Jesus is vital to the church.
Be overwhelmed by Jesus.
Be comforted by Jesus.
Be empowered by Jesus.
When you sing, sing to this Jesus, when you pray, pray to this Jesus. When you serve, serve this Jesus. When you take communion, picture this Jesus!