Abide/ Week 2/ John 15:5
What did Jesus mean when he said, 'Abide in me and I in you..?' (John 15:4) What does it mean to 'abide' in Jesus? In our Abide series we have been using an acronym to guide us through Jesus' statements in regards to abiding in Him and in His love.
Acknowledge where you're at.
Bind yourself to Jesus.
Inform yourself of God's word.
Devote yourself to prayer.
Enjoy obedience.
This week, we focused on verse 5 of John 15 and looked at what it means to 'bind yourself to Jesus.' Open your Bible to John 15:5 and join us as we continue our new series, Abide.
<script src="https://www.buzzsprout.com/103411/911145-abide-week-2-john-15-5.js?player=small" type="text/javascript" charset="utf-8"></script>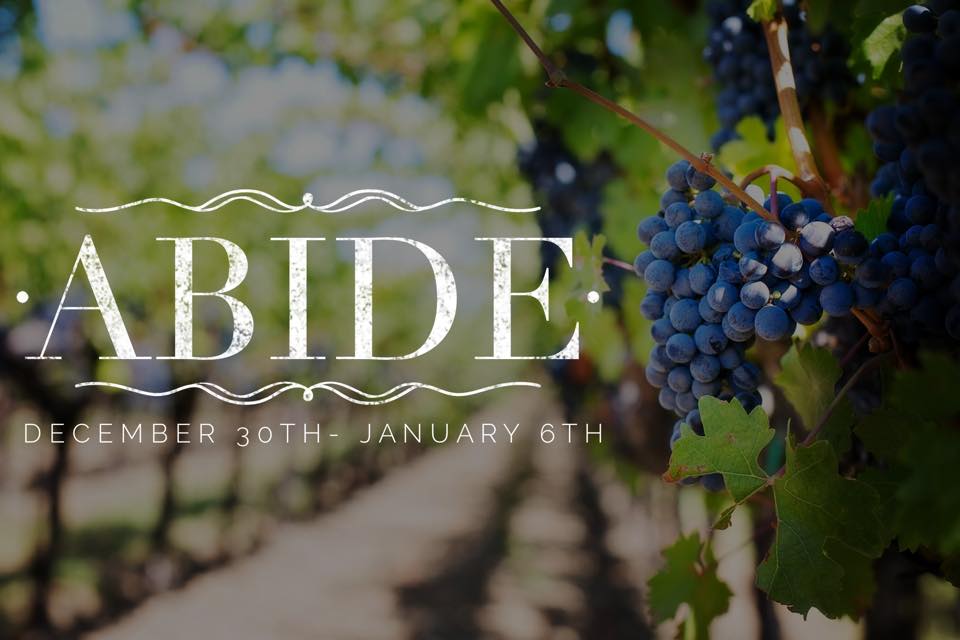 Date: January 6, 2019
Speaker:  Jason Jordan
Series: Abide
Watch the archived Facebook LIVE stream by clicking the button below!
Thank you so much for listening in here at West Side. We often say that we love the word of God because it points us to the son of God. We hope these messages encourage you and equip you to love Jesus more. We also want you to be apart of a local church, we believe these messages are only supplemental, being apart of a local church is essential. Blessings.
Sermon Notes
Abide Week 2: "Bind Yourself to Jesus"  John 15:5
REVIEW: We continue in our series and study of John 15 for the new year. We are taking our time at the start of the year, and anchoring down on a word to guide us: A.B.I.D.E. *Show series review
CONTEXT> In verses 4-6, Jesus teaches us a shocking truth. One that I don't think that we actually believe: that apart from Jesus we can do… NOTHING. I think that we believe that maybe we can do … something? But Jesus makes it very clear, you can not produce fruit apart from him! If Jesus gives us the command to remain (which is difficult to understand given the natural growth of branches) Then he understands that our tendency is to not remain, or rather to wonder away from him, correct?
*ILL> A few years ago, i took Roman to the circus.(PIC) He was a lot younger then and a lot more squirmy, lol. The circus is an intense environment and I didn't think that he would sit through the whole thing… until the show started. He sat completely still… he was in awe (PIC) APP> I think that is the truth that Jesus is teaches us here today, look in v9 "As the Father has loved me so I have loved you, remain in my LOVE" Wow…
Big Idea> The only way not to wander away from Jesus is to remain in wonder at Jesus.
APP> If that is the key, if that is the truth to "remain" and abide in Jesus. How do we do that? I think there are 3 things that we have to see, 1) The source 2) The side-affect and 3) The structure
The source. v5
" I am the vine you are the branches… apart from me you can do nothing." this is such a huge statement that Jesus is teaching us here. The fruit that grows in our life from following Jesus is supernatural. This isn't something that we can produce, it's something that God does!
*ILL> If your home is anything like ours, there is something that is very valuable in your home… any guesses? A Phone charger! According to Apple, they make 1 Billion dollars a year off of phone chargers! A phone itself is not power, it is a product of power. It needs power.
"I have been crucified with Christ. It is no longer I who live, but Christ who lives in me. And the life I now live in the flesh I live by faith in the Son of God, who loved me and gave himself for me." Galatians 2:20 APP> Jesus is not apart of your life Jesus is the heart of your life
2) The side-affect.v6
"If anyone does not abide in me…" If Jesus is the greatest teacher that ever lived, and he is. A good teacher doesn't only show you one side of something but rather both sides. If Jesus has told us the positive of him being the source, here Jesus tells us of the negative if he is not. Jesus is also referring to Ezekiel 15:3-4

, where basically he asks, what's the use of a weathered grape vine?
APP> I don't think Jesus is so much threatening a fruitless branch with Hell… I mean, what can that do? "You better grow! Now!" You can't force growth, right? APP> Jesus teaches us that distance from him will only bring devastation. Look at the word, "withers" *Show Pic of withered branch.
Warning Signs of Withering:
Lack of nourishment from God's Word.
Lack of exposure to SONlight.
Lack of pruning.
Lack of rain from repentance. 
3) The structure.
There is something here in Jesus' teaching that isn't directly on the surface (i hesitate to say with the fear that you will think you can't understand your bible, you can!) But his hearers would have understood the teaching about the vine and the whole process.

Vine's can't grow on their own. Meaning, they need a structure to support their growth. (PICS)
APP> Your life will only grow as much as your structure of life will support it. I think that is the main thing for many of us, we desire this but we are not set up for this.
APP> That's where what is called "A Rule of life" comes in. The word "Rule" actually comes from the word trellis.
To put it clearly, A Rule of Life keeps you from being ruled by life. This is a measurable, attainable way to live. It involved planning and making time. The key is that it doesn't help you balance your spiritual life but rather shows that every aspect of your life is spiritual.
"I appeal to you therefore, brothers, by the mercies of God, to present your bodies as a living sacrifice, holy and acceptable to God, which is your spiritual worship. Do not be conformed to this world, but be transformed by the renewal of your mind, that by testing you may discern what is the will of God, what is good and acceptable and perfect." Romans 12:1-2
4 aspects of a rule of life:
Upward (God, bible reading, prayer, worship)
Inward (health, finances, work)
With-ward (marraige, parenting, relationships)
Outward (community, world, extended family relationships)
Big Idea> The only way not to wander away from Jesus is to remain in wonder at Jesus.
Close> Here is something that we have to remember… we are not binding ourself to Jesus so God will love us… God loves us so we bind ourself to Jesus. And if there is any truth that I know it is this…. However much you want to be with Jesus… he wants to be with you even more.