Abide/ Week 3/ John 15:1-8
Over the last three weeks we have discovered more of how we can abide in Jesus for the 2019 year. We've seen how acknowledging where we are can help us see where we need to go. We have seen how binding ourselves to the wonder of Jesus will keep us from wandering away from Him. This week, we look at how Jesus wants us to abide in him through His word and through prayer.
What does it mean to 'inform yourself with God's Word?' How is this directly tied to 'devoting ourselves to prayer?' What does all of this mean for me today in 2019?
Join us in John 15:1-8 as we discover how God's Words to us in scripture develop our words to God in prayer.
<script src="https://www.buzzsprout.com/103411/918534-abide-week-3-john-15-1-8.js?player=small" type="text/javascript" charset="utf-8"></script>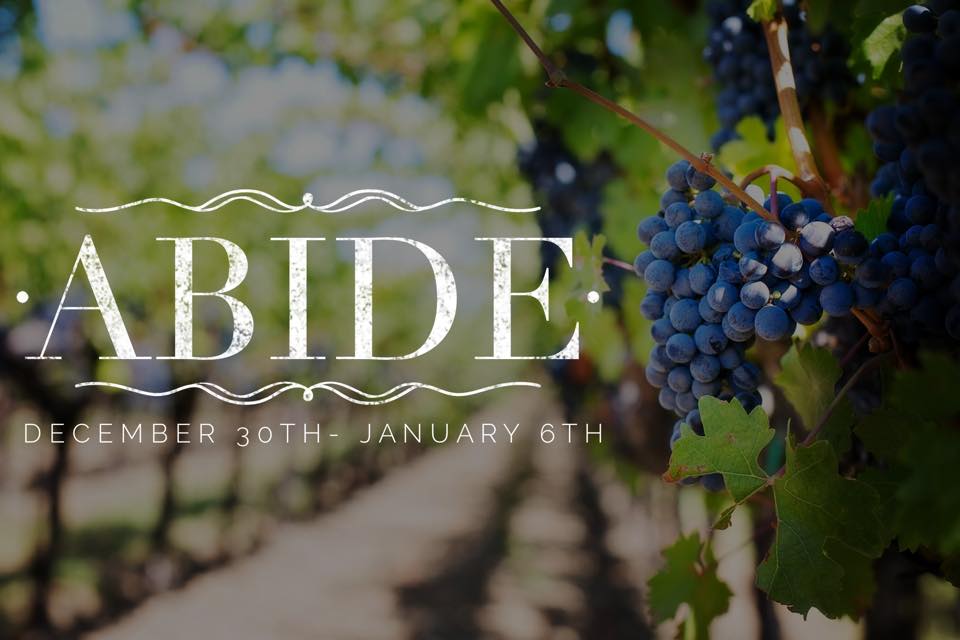 Date: January 13, 2019
Speaker:  Jason Jordan
Series: Abide
Watch the archived Facebook LIVE stream by clicking the button below!
Thank you so much for listening in here at West Side. We often say that we love the word of God because it points us to the son of God. We hope these messages encourage you and equip you to love Jesus more. We also want you to be apart of a local church, we believe these messages are only supplemental, being apart of a local church is essential. Blessings.
Sermon Notes
A.B.I.D.E Week 3 "Inform and Devote" John 15:1-8
REVIEW: We continue in our series and study of John 15 for the new year. We are taking our time at the start of the year, and anchoring down on a word to guide us: A.B.I.D.E. *Show series review This week we tackle two of the topics to ABIDE. Inform yourself of God's Word and Devote yourself to Prayer.
*ILL> For the past 7 years in our home we have had a child either going through diapers, walking and learning how to speak. One of the things is interesting is watching how Piper our youngest is learning to talk vs how Roman learned to talk but there is still similarities. Often times I will hear Roman or Andie talking to Piper, they will use a baby voice, talking like she talks. We have to correct them and say, "Don't talk to hear that way, use your words. She is learning to talk by hearing you talk."
APP> That is what Jesus is talking about in these verses. He mentioned prayer as an aspect of Abiding but prayer that is dependent upon his words. Eugene Peterson put it this way, "because we learned language so easy in our lives we have no memory of the process. Language is spoken into us; we learn language only as we are spoken to. We are plunged at birth into a sea of language… then slowly, syllable by syllable we acquire the capacity to answer: mamma, papa, bottle, blanket, yes , no. Not one of these words was a first word… all speech is answering speech. We were all spoken to before we spoke." – The Shape of Pastoral Integrity, pg49
Big Idea> God's Words to us in scripture develop our words to God in prayer.
CONTEXT> Jesus is very clear that an aspect and or fruit of abiding in an indwelling aspect of his words and teachings and our response to that in Prayer. Then Jesus tells us in v8 "BY THIS my Father is glorified that you bear much fruit.." Wow… I want to get as practical as possible here today. APP> We will look at two things 1) God's Words 2) Our words
1) God's Word to us- the scriptures.
"my words abide in you.." They word that Jesus uses for "words" literally means every utterance that he has spoken. Isn't that crazy?! He is saying remember my teachinging, my words. "All the individual utterances that together construe Jesus 'word' Such words must so lodge in the disciples mind and heart that conformity to Christ, obedience to Christ is the most natural thing in the world." D.A. Carson, John pg517

But there is more to the scriptures as well. Lets look at how Jesus taught the OT scriptures as well.

"And beginning with Moses and all the Prophets, he interpreted to them in all the Scriptures the things concerning himself." Luke 24:27

This is an outstanding understanding of Scripture! The problem is I don't think we view the scriptures this way. Glenn Packiam is helpful here:
5 common ways to view the scriptures:
Textbook– reading for information.
Cookbook- reading for formulas
Coffee table book – reading for inspiration
Magic book– secret power
Rulebook- what I am against.
APP> The bible is one grand story of the Triune God rescuing and redeeming his rebellious creation through the person and work of Jesus Christ.
APP> But the key is not just IN Jesus' words but rather abiding in his words. Resting and remaining in his words. How do we do that?
R.A.N.S.O.M Bible Study
Get a physical Bible

Get a Bible reading plan

R

ead that days text.

A

sk questions.

N

ote- write down what you are seeing

S

ummarize what you just read

O

bey what you are learning

M

editate on what you have learned.
APP> The more you grow in learning God's Word the more you will grow in loving God.
2) Our words to God- prayer.
"ask whatever you wish and it will be done…" Here
Jesus introduces the concept of prayer once again. Prayer is a difficult thing for us as followers of Christ.
"Now Jesus was praying in a certain place, and when he finished, one of his disciples said to him, "Lord, teach us to pray, as John taught his disciples." And he said to them, "When you pray, say…" Luke 11:1-2 Prayer is not natural then for us, we must learn. We must have a structure that helps us.
"Prayer is the only entryway into genuine self-knowledge. It is also the main way we experience deep change—the reordering of our loves. Prayer is how God gives us so many of the unimaginable things he has for us. Indeed, prayer makes it safe for God to give us many of the things we most desire. It is the way we know God, the way we finally treat God as God. Prayer is simply the key to everything we need to do and be in life." – Tim Keller, Prayer pg18
A.C.T.S. Prayer method:
Adoration –

We begin by praising God for who he is.

Confession –

If God's first move is revelation our response is confession.

Thanksgiving –

This is where the rubber meets the road.

Supplication-

Then we get to the asking and what we see from the process is the things we are asking for have possibly changed.
Prayer helps:
The Bible
The book of Common Prayer
The Valley of Vision
2,000 years of Prayer
Big Idea> God's Words to us in scripture develop our words to God in prayer.