Defining Moments Part 3
As we continue in this mini series we look at the Old Testament scripture 2 Kings 6: 1-7. In this unusual story we can see that we have a big God that cares about the small things. We also see that his provision is consistent and where His will guides us, He will provide for us.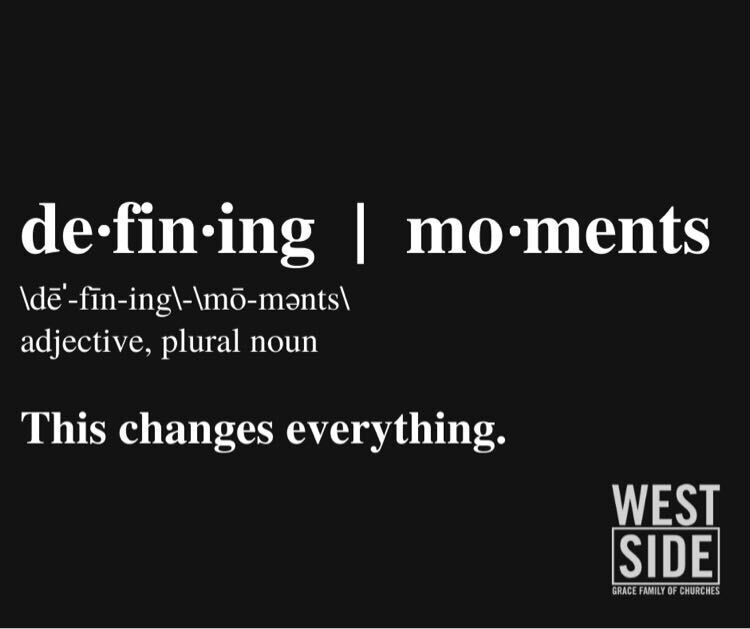 Date: August 28, 2022
Series: Defining Moments
Watch the archived Facebook LIVE stream by clicking the button below!
Thank you so much for listening in here at West Side. We often say that we love the word of God because it points us to the son of God. We hope these messages encourage you and equip you to love Jesus more. We also want you to be apart of a local church, we believe these messages are only supplemental, being apart of a local church is essential. Blessings.
SERMON NOTES
Defining Moments Part 3- 2 Kings 6:1-7
REVIEW> 
A defining moment is an experience that is memorable, meaningful and missional.

 

The quality of our lives is dependent on how we respond to these defining moments.

 

Chrons= chronological time

 

Kairos= God's time! Perfecting timing!

 
5 Types Of Karios Moments: 
The Brick Wall –

 

The Speed Bump-

 

The Mirror-

 

The Vision-

 

The Smile-

 
TRANS> Last week we talked about "brick wall" kairos moments and said "What if your "brick-wall" kairos is actually God breaking through? This week, I want to swing the exact opposite. This will help set us up… 
*ILL> This week, I had quit the Kairos moment when I was mowing and my phone slipped out of my pocket, got sucked into the mower and was destroyed (PIC) I instantly was met with panic and anxiety because on that phone I had all my message between JT…. 
APP> Here is the question that I want to ask about that moment, "Does God care about that?" Like really and honestly. 
"When I consider Your heavens, the work of Your fingers, The moon and the stars, which You have ordained, What is man that You are mindful of him, And the son of man that You visit him? For You have made him a little lower than the angels, And You have crowned him with glory and honor." – Psalm 8:3-5

 

"You keep track of all my sorrows. You have collected all my tears in your bottle. You have recorded each one in your book." Psalm 56:8
Are not five sparrows sold for two pennies? And not one of them is forgotten before God. 7 Why, even the hairs of your head are all numbered. Fear not; you are of more value than many sparrows." Luke 12:6-7
CONTEXT> We see something very different and very interesting. 2 Kings is an interesting book. In Chapter 5, Naaum, a king is healed of leprosy, then right after the axe head passage, there are chariots of fire! So why in the world…. is this little scene in the Bible? Think about it? 
"For whatever was written in former days was written for our instruction, that through endurance and through the encouragement of the Scriptures we might have hope." Romans 15:4
"For I am the Lord, I change not…" Malachi 3:6
Big Idea> We have a BIG God that cares about SMALL things. 
CONTEXT> What I see from this text is important. The main reason for this miracle is to establish Elisha as God's true prophet, no question. The loss of the axe, means the school can't be built..so God doesn't something… it's a big theological word… 
Provision – God's provision is his consistent and continual care for his creation.
"Therefore do not worry, saying, 'What shall we eat?' or 'What shall we drink?' or 'What shall we wear?'

 

For after all these things the Gentiles seek. For your heavenly Father knows that you need all these things.

 

But seek first the kingdom of God and His righteousness, and all these things shall be added to you. Therefore do not worry about tomorrow, for tomorrow will worry about its own things. Sufficient for the day is its own trouble." Matthew 6:25-34
Poor Responses to God's Provision: 
Anxiety says, "What if God doesn't provide?"

 

Bitterness says, "God didn't provide the way I wanted."

 

Resentment says, "God got it wrong."
APP> Where Gods will guides you, his provision provides for you. 
Application:
So how do we apply this? what does this look like when it comes to our every day lives and Kairos moments?

 
*ILL> In the 1930's there was a young girl named Adelaide Delong. She was at home doing her math homework and was having quiet the struggle understanding it. She remember her neighbor an older man who she thought was a teacher. So she grab a box of chocolates knocked on her neighbors door and said, "Will you show me how to my homework sir?" The man was kind and helped her. Later that afternoon she told he mother what had happened and her mother was horrified and embarrassed, Why do you ask? Well… their neighbors was non other than, Albert Einstein… 
""Truly, I say to you, unless you turn and become like children, you will never enter the kingdom of heaven" – Matthew 18:3