Defining Moments Part 4
As we close our mini series we see that Jesus asks us "What Do You Want?" As Christians, we often think that it's just about our Words and Works, but the test of a mature disciple is our Wants. In this episode we see that our deepest desires of Belonging, Security, and Significance are taken care of by God's love and provision.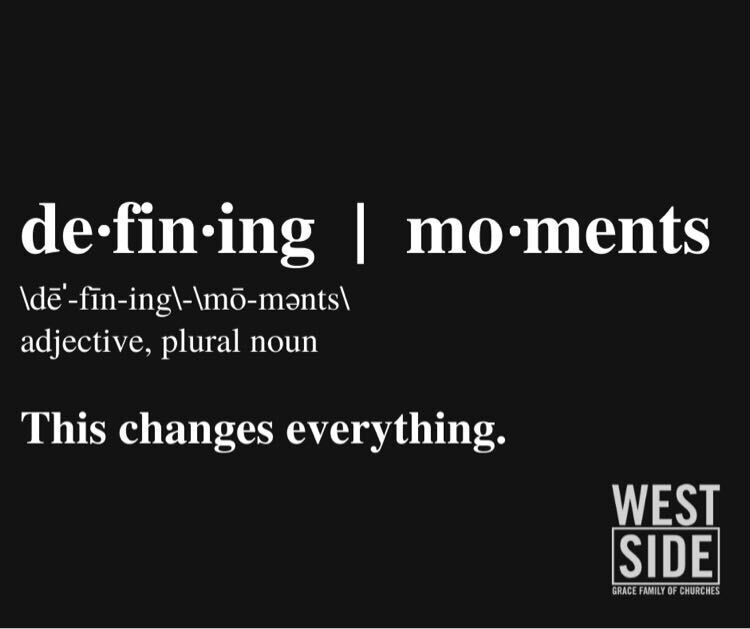 Date: September 4, 2022
Series: Defining Moments
Watch the archived Facebook LIVE stream by clicking the button below!
Thank you so much for listening in here at West Side. We often say that we love the word of God because it points us to the son of God. We hope these messages encourage you and equip you to love Jesus more. We also want you to be apart of a local church, we believe these messages are only supplemental, being apart of a local church is essential. Blessings.
SERMON NOTES
Defining Moments- Part 4 Matthew 3:13-4:11
REVIEW> 
A defining moment is an experience that is memorable, meaningful and missional.

 

The quality of our lives is dependent on how we respond to these defining moments.

 

Chrons= chronological time

 

Kairos= God's time! Perfecting timing!

 

We have a BIG God that cares about SMALL things.

 

God's provision is his consistent and continual care for his creation.

 
ILL> Do you remember the very famous nicholas sparks book, the Notebook? Which also became a very popular movie. Well there is a scene that has now become a famous MEME. When they are standing in front of the car, she is getting ready to leave and he asks her….. "What do you want?" 
APP> What if I told you that, that is the #1 question when it comes to discipleship… 
"And James and John, the sons of Zebedee, came up to him and said to him, "Teacher, we want you to do for us whatever we ask of you." 36 And he said to them, "What do you want me to do for you?" 37 And they said to him, "Grant us to sit, one at your right hand and one at your left, in your glory." 38 Jesus said to them, "You do not know what you are asking." Mark 10:35-38

 
APP> One of the truest test of spiritual maturity is seeing how you respond when you don't get what you want. 
CONTEXT> Now, enters the Baptism and Temptation of Jesus. At his Baptism we see this affirmation and acceptance and the beginning on his ministry, then…. in the desert… we see the test of that all. What is so powerful about the temptation of Jesus? 
"The last temptation is the greatest treason: To do the right deed for the wrong reason." T.S. Elliot
"The enemy never immediately tempts us with what is obviously bad; instead, he is more likely to deceive us with appearances of good." St. Theophan the Recluse

 
Our Deepest Desires: 
Belonging

 

Security

 

Significance

 
The Temptation Of Jesus: 
"If you are the son of God, tell this stone to become bread." (SECURITY)
"If you are the Son of God, throw yourself down, fo fit is written, 'He will command his angels concerning you…" (BELONGING)

 

"The devil took him to a very high mountain and how'd him all the kingdoms of the world and their glory. And he said to him, "All these I will give you, if you will fall down and worship me." (SIGNIFICANCE)

 
The greatest Kairos:
I am more sinful and broken than I could ever imagine but I am more loved and accepted by Jesus than I could ever dare dream.
Application: 
What do I want?

 

How am I fighting and striving for it?

 

What is the first step of surrender that the Holy Spirit is leading me to do?

 

What am I going to do about it?