Ecclesiastes: Learning to Live Life in Reverse | Ecclesiastes 3:9-15
Throughout the first three chapters of this book of wisdom we have seen a rhythm and a theme: This world is temporary; only God and His ways are eternal.
What does this mean? How are our lives affected if we are constantly searching for eternal purpose in things that are not eternal?
Open your Bible to Ecclesiastes 3:9-15 and join us as we continue to learn from this ancient book of wisdom, seeing the end of our lives and striving to live our lives in reverse.
<script src="https://www.buzzsprout.com/103411/988771-ecclesiastes-learning-to-live-life-in-reverse-ecclesiastes-3-9-15.js?player=small" type="text/javascript" charset="utf-8"></script>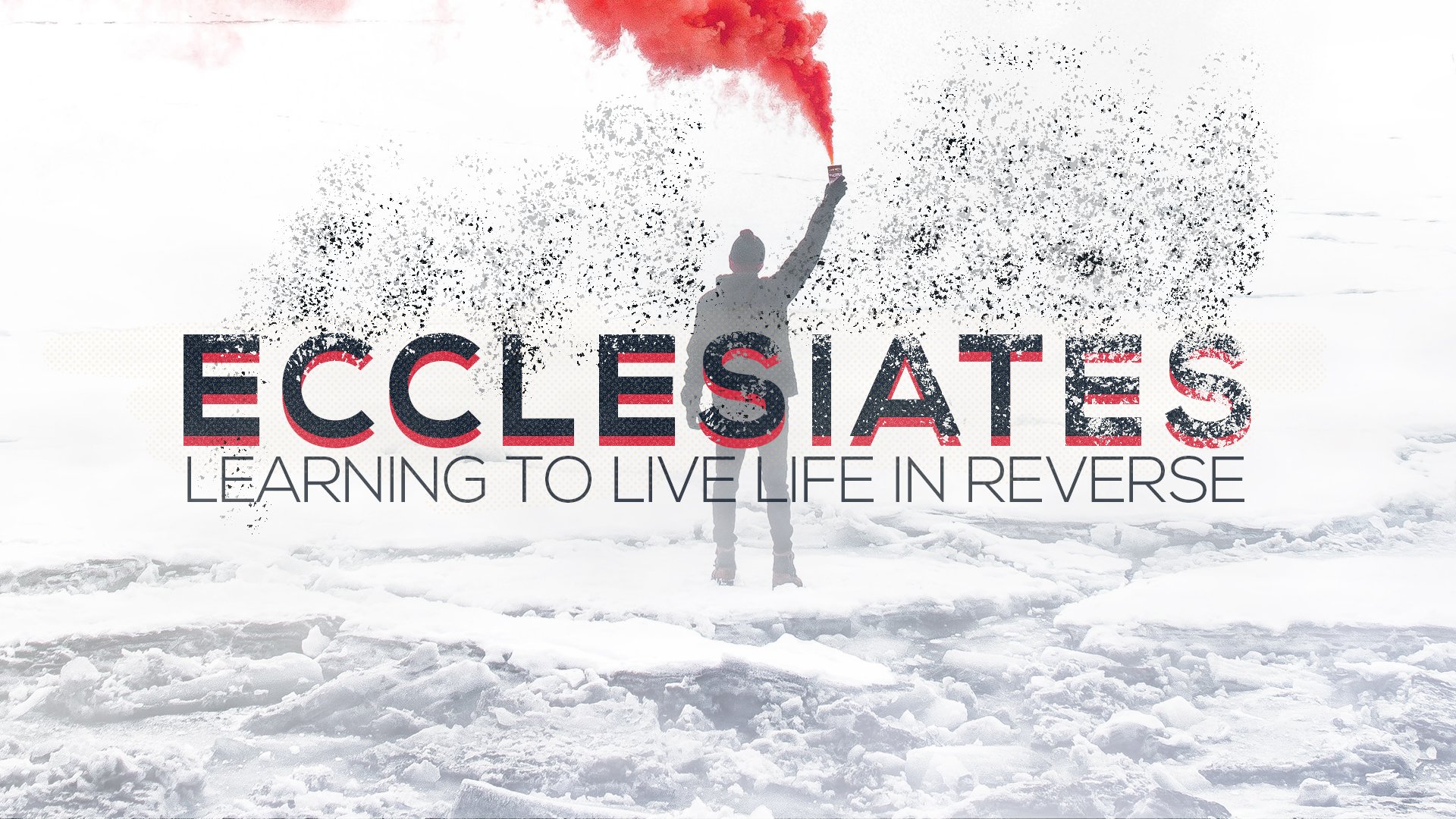 Date: March 10, 2019
Speaker:  Jason Jordan
Series: Ecclesiastes
Watch the archived Facebook LIVE stream by clicking the button below!
Thank you so much for listening in here at West Side. We often say that we love the word of God because it points us to the son of God. We hope these messages encourage you and equip you to love Jesus more. We also want you to be apart of a local church, we believe these messages are only supplemental, being apart of a local church is essential. Blessings.
Sermon Notes
Ecclesiastes 3:9-15 "Engaging Eternity"
REVIEW: Last week we look at the topic of times and seasons. Solomon taught us that though at times it doesn't look like there is any rhyme or reason behind things that there is actually a rhythm, and God is the one who sets the rhythm. This week Solomon continues his thought and asked a question v9 "What gain has the worker from his toil…"
CONTEXT> In the verse's that where read to you, Solomon is trying to get that point across. He is challenging us, showing us and teaching us that if God orchestrates time, he is outside of it. Solomon drop this huge haunting line in v 11"God has placed eternity in the heart of man" It is a difficult word to translate, world, time, long…Billy Graham called this the "God shaped whole in your heart"
INTRO> I am indebted to another pastor for showing me this illustration. I want this rope to be a representation of eternity, never ending time. The red part of this rope if your lifespan. You're limited time in light of unlimited time. Even with this visual illustration, it's hard to comprehend the depths of what we are talking about.
Big Idea > Everything is temporary in light of eternity.
"Have you not known? Have you not heard? The LORD is the everlasting God, the Creator of the ends of the earth. He does not faint or grow weary; his understanding is unsearchable." Isaiah 40:28
APP> Solomon is doing something extremely helpful for us. We don't like the ordinary, we like the extraordinary. Solomon says that if we have a right view of the end, then we have live rightly now. We don't start with us… we start with God.. 1) The Works of God:
The works of God are:
mysterious. v11 "so that he cannot find out what God has done.." Even Solomon himself admits, with his divine wisdom given by God there are somethings in life, there are some things about God that we can NEVER know. "For my thoughts are not your thoughts, neither are your ways my ways," declares the Lord. 9 "As the heavens are higher than the earth, so are my ways higher than your ways and my thoughts than your thoughts." Isiah 55:8-9….. "The secret things belong to the LORD our God, but the things that are revealed belong to us and to our children forever, that we may do all the words of this law." Deut 29:29 APP> What does this mean for us? *ILL> DO you know the name William Cowper? He was an English poet and hymn writer. He suffered from great, great bouts of depression. After multiple attempts of suicide, in 1773 he wrote a poem called "Light Shinning out of Darkness" , It was later published by John Newton. William Cowper gave us the phrase.. "God works in mysterious ways…" "God moves in a mysterious way His wonders to perform; He plants His footsteps in the sea And rides upon the storm. Deep in unfathomable mines Of never failing skill He treasures up His bright designs And works His sov'reign will. Ye fearful saints, fresh courage take; The clouds ye so much dread Are big with mercy and shall break In blessings on your head. Judge not the Lord by feeble sense, But trust Him for His grace; Behind a frowning providence He hides a smiling face. His purposes will ripen fast, Unfolding every hour; The bud may have a bitter taste, But sweet will be the flow'r. Blind unbelief is sure to err And scan His work in vain; God is His own interpreter, And He will make it plain." APP> Just because you don't know the reason doesn't mean that there isn't one.
permanent. v14 "I perceived that whatever God does endures forever.." Again, Solomon is comparing our limitations to God's unlimited works. He is looking at his labor vs God's labor. *ILL> To bring this idea into 2019 let's look at what most people think is the oldest standing structure in the world. It is called, "Gobekli Tepe" which is in southeastern Turkey. Interesting enough, it seems to have been a temple, a place for worship. There is also of speculation about its exact date as well as the limitations for carbon dating but most people believe that this cite might even be pre flood. Facincating. That's roughly 4,500 years ago! APP> Again Solomon is saying, "Hey this is the best that we have got! Now, look at the eternal work of God! Why "So that people would fear before him…" APP> If you think man moving those rocks around is impressive… think about the God who made the rocks! The ocean should make you feel small…
repetitive. v15 "God seeks what has been driven away.." This is a very abstract verse! What Solmon is saying is, "Human beings tend to repeat history, Why? Because God is trying to teach us something, show us something. What we cast away, God brings back again.
APP> When we think about eternity and we think about the ever lasting work of God, it makes us feel small. It should. In a way.. it's like Solomon is reflecting back on the story of the garden of Eden…
"So the Lord God banished him from the Garden of Eden to work the ground from which he had been taken.  After he drove the man out, he placed on the east side of the Garden of Eden cherubim and a flaming sword flashing back and forth to guard the way to the tree of life." Genesis 3
APP> Humanity's greatest problem is trying to fill an eternal void with temporary solutions…..  So what's the answer?
The mystery of the incarnation. John 1:14
The permanent purchase of salvation.

 

Hebrews 10:12-14
The repetitive work of the gospel. 1 Corinthians 15:2
Big Idea > Everything is temporary in light of eternity.