Fight for the Faith – Intro
Join us as we start our new series "Fight for the Faith". In this series, we will walk through the book of Jude, and see what it looks like to contend for the faith!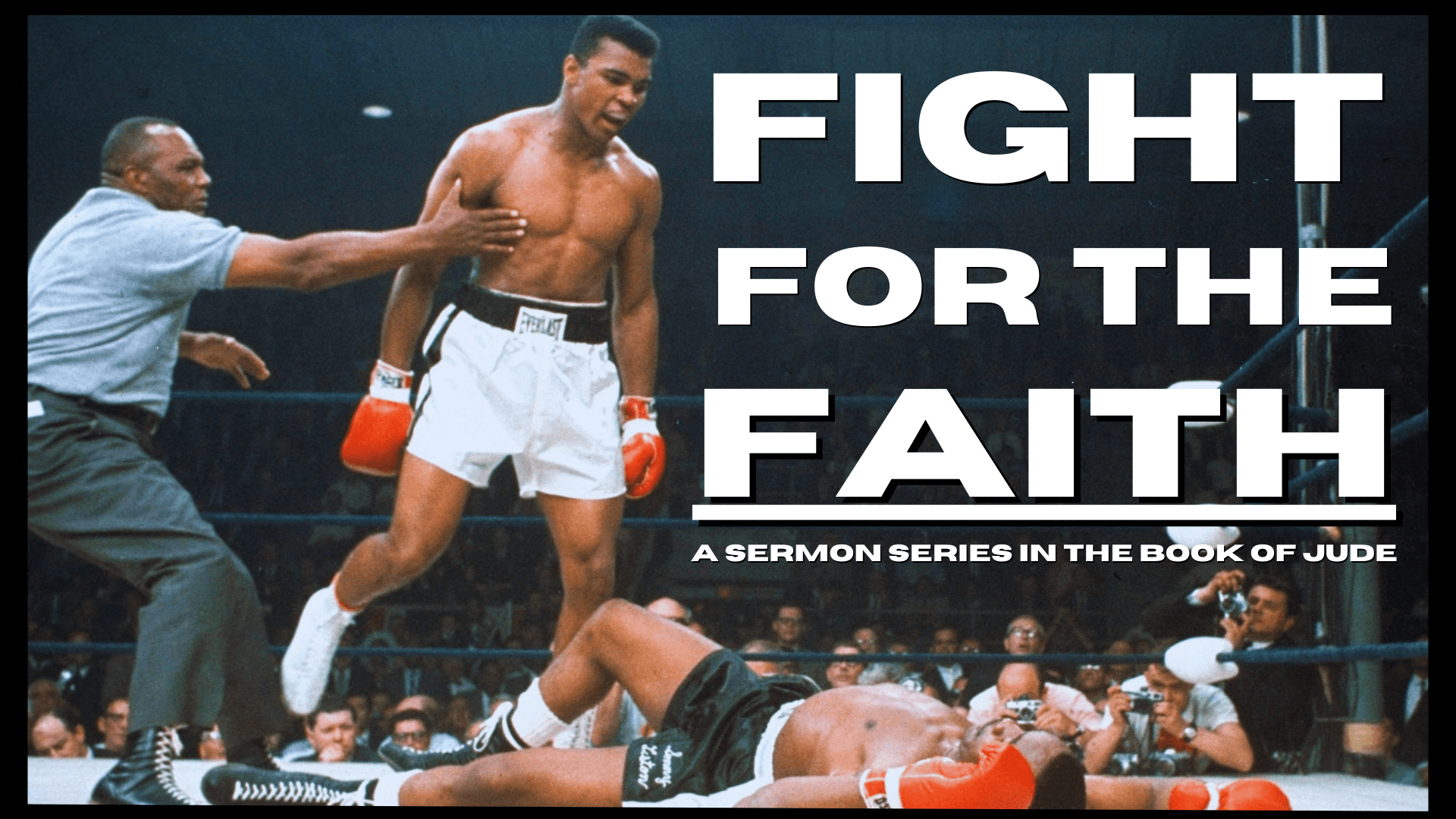 Date: February 5, 2023
Series: Fight for the Faith
Watch the archived Facebook LIVE stream by clicking the button below!
Jude Intro – The Rest of the Sermon
Join us as we discuss the Intro of our new series " Fight for the Faith"
Thank you so much for listening in here at West Side. We often say that we love the word of God because it points us to the son of God. We hope these messages encourage you and equip you to love Jesus more. We also want you to be apart of a local church, we believe these messages are only supplemental, being apart of a local church is essential. Blessings.
SERMON NOTES
Jude v1-2 "Fight For The Faith" 
God's Money Update > We originally had the 3 phases. David Schremp as manager. Looking at ideas with architect, current balance is $205,628.45 . What you can do: 1) Partner by giving. 2) Partner by praying
INTRO> In the early hours on April 15th, 1912 The "unsinkable ship" the Titanic struck an iceberg and sank, claiming 1,517 people. That is known in history. What is lesser known is that on the evening of April 14th, around 9:40 pm the titanic received a message from the Mesaba warning of a large ice field up ahead. At 10:55pm another ship nearby the Leyland Liner Calirfornian sent word that it was at a complete stop because it was surround by "large icebergs". All in all, the Titanic received 7 warnings about large icebergs. Also, Fredrick Fleet and Reginald Lee were in the crows nest on the look out, when they saw the iceberg is was to late to slaw down, Why? The crows nest binoculars were missing. The tragedy of the Titanic is seen most in the seven warnings and how it could have been prevented. 
CONTEXT> If I were to sum up the book of Jude, it's that, a warning. It's a warning to the NT church and the early Christians of danger up ahead! 
 

Author: Jude v1 "Is not this the carpenter's son? Is not his mother called Mary? And are not his brothers James and Joseph and Simon and Judas?" Matthew 13:55 
 Audience: Possibly the same audience as 1 and 2nd Peter 
 Dwell Verse: Jude 1:24-25
 Main Words: Lord 7x, Keep 6x, False Teachers, Ungodly 6x
What are we contending? 
Now I would remind you, brothers,[a] of the gospel I preached to you, which you received, in which you stand, 2 and by which you are being saved, if you hold fast to the word I preached to you—unless you believed in vain. 3 For I delivered to you as of first importance what I also received: that Christ died for our sins in accordance with the Scriptures, 4 that he was buried, that he was raised on the third day in accordance with the Scriptures, 5 and that he appeared to Cephas, then to the twelve. 6 Then he appeared to more than five hundred brothers at one time, most of whom are still alive, though some have fallen asleep. 7 Then he appeared to James, then to all the apostles. 8 Last of all, as to one untimely born, he appeared also to me. 1 Corinthians 15:1-8 
APP> The battle is always over the Gospel of Jesus Christ as revealed in the scriptures.  "Did God really say?…" -Genesis 3:1
   5 Attacks on the Word of God: 
The Veracity of Scripture – 1925 
The Accuracy of Scripture – 1950
The Relevancy of Scripture – 1970 
The Sufficiency of Scripture – 2000 
The Authority of Scripture – Present and Future 
APP> So, if the issue is clear, and there is a battle going on and Jude sends a warning, what's the first thing that we need to know? v1-2 teach us: 
Big Idea > We must contemplate the gospel before we ever contend for the gospel. 
APP> So… what is our identity in Jesus Christ. 4 quick things. 
 

"Jude, a servant (bondservant) of Jesus Christ and brother of James…."

Why is this so serious? Well remember that most scholars agree that Jude was probably a brother of Jesus…

"Isn't this the carpenter's son? Isn't his mother's name Mary, and aren't his brothers James, Joseph, Simon and Judas?" —Matthew 13:55….. Now… is we further this out… why is this such a big deal? "Jesus' brothers said to him, 'Leave Galilee and go to Judea, so that your disciples there may see the works you do. No one who wants to become a public figure acts in secret. Since you are doing these things, show yourself to the world.' For even his own brothers did not believe in him." —John 7:3–5… history tells us that Jude was beaten and crucified in 72 AD
APP> Why is this a big deal? Because at one time, he didn't believe in Jesus APP> Humility is the core characteristic of every Christian in the Bible. 
2) We are called. 1b
"To those who are called…" wow! This word does not mean a "general call" to salvation! This word call means "to be specifically summoned by God to salvation." 
APP> Before we ever come to God, God comes to us! 
3) We are loved. 1c
"… to those who are called, BELOVED…."

This wording is so specific and intimate!

*ILL> Talking with a person who was under conviction, "I know God has saved me but he is disappointed in me about sin…where does it say that God is disappointed in you?" 
APP> Religion say's, "BEhave!" The gospel say's "BEloved!" 
4) We are protected. v1d
"kept for (by) Jesus Christ…" Jesus keeps his own! Look at verse 21 "keep yourself in the love of God" now look at verse 24 "now to him who is able to keep you…" Which is it? YES! 
*ILL> This Christmas, Andie Grace got a new vanity stand. It's where she puts here "good make up" and stuff, off limits! 
APP> The great Puritan, Thomas Merton said, "Jesus Christ is the cabinet in which God's jewels are kept…"
"And this is the will of him who sent me, that I shall lose none of all those he has given me, but raise them up at the last day. 40 For my Father's will is that everyone who looks to the Son and believes in him shall have eternal life, and I will raise them up at the last day."" John 6:39-40
APP> Grace not only saves us, Grace also sustains us. 
Big Idea > We must contemplate the gospel before we ever contend for the gospel. 
The Christian's entire Life: 
*Name Tags!