Lessons From 8 Years of Ministry
This week we celebrate Pastor Jason's 8th Year Anniversary here at West Side. Jason reflects on 8 things he has learned from his time here as Lead Pastor and shows us that following Jesus is a long obedience in the same direction. We are so thankful for the Jordan family and for showing us that the point of everything is to point to Jesus!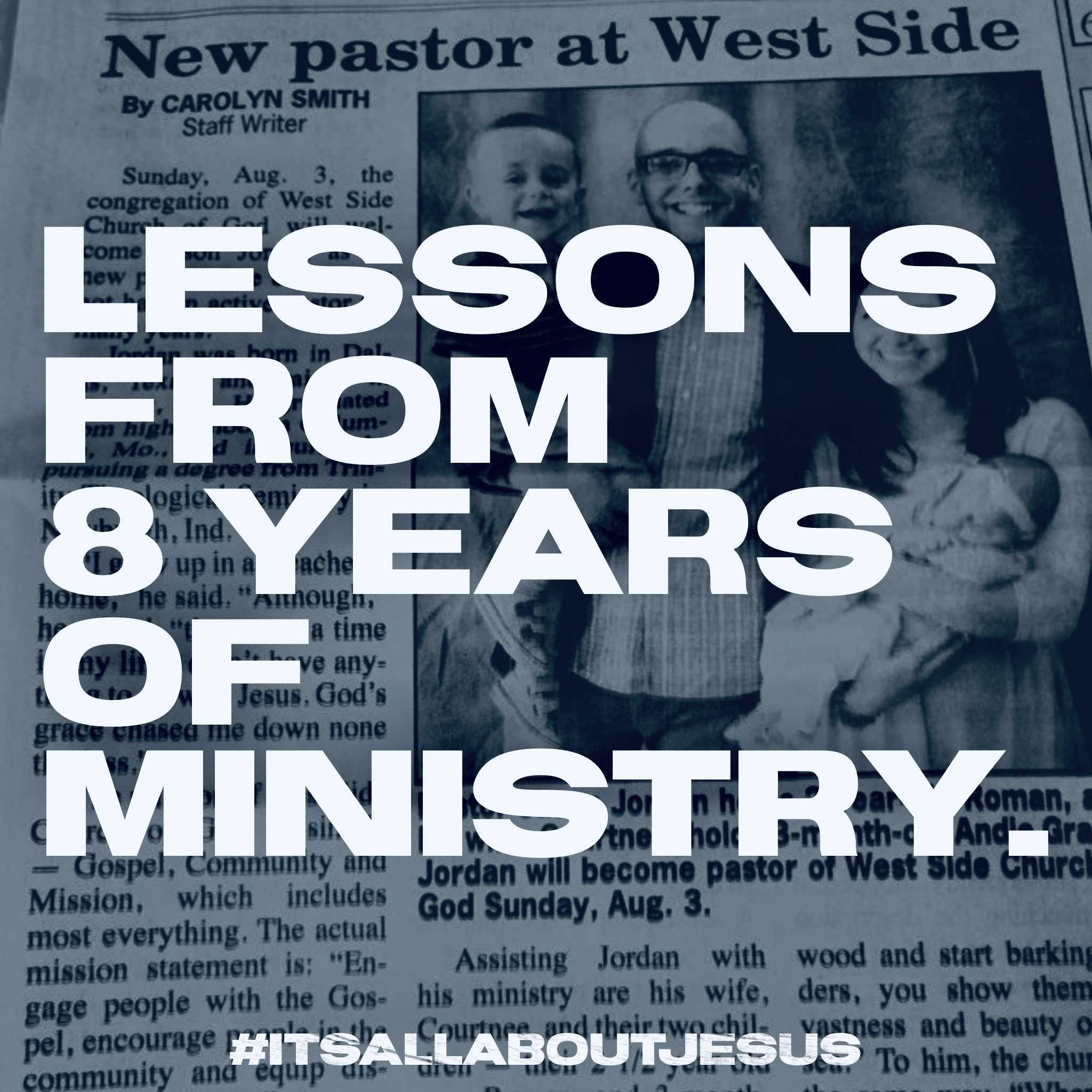 Date: August 7, 2022
Series: Stand Alone Sermons
Watch the archived Facebook LIVE stream by clicking the button below!
Thank you so much for listening in here at West Side. We often say that we love the word of God because it points us to the son of God. We hope these messages encourage you and equip you to love Jesus more. We also want you to be apart of a local church, we believe these messages are only supplemental, being apart of a local church is essential. Blessings.
SERMON NOTES
8 Year Anniversary- Lessons- Colossians 1:27-28
INTRO> **Preview New Series Coming up "Defining Moments". Thank the congregation and tell them the initial story about my arrival at West Side. 
Being with Jesus is more important than accomplishing things for Jesus.

 
"The seventy-two returned with joy, saying, "Lord, even the demons are subject to us in your name!"….. Nevertheless, do not rejoice in this, that the spirits are subject to you, but rejoice that your names are written in heaven."
-Luke 10:17,20
In 8 years I averaged preaching about 46 Sundays a year, only missed one Sunday due to sickness because of COVID, preached 368 sermons total.

 

God cares more about my godliness than my giftedness.

 
2) Jesus disappointed people and so will I, and that's okay. 
18 And a ruler asked him, "Good Teacher, what must I do to inherit eternal life?" 19 And Jesus said to him, "Why do you call me good? No one is good except God alone. 20 You know the commandments: 'Do not commit adultery, Do not murder, Do not steal, Do not bear false witness, Honor your father and mother.'" 21 And he said, "All these I have kept from my youth." 22 When Jesus heard this, he said to him, "One thing you still lack. Sell all that you have and distribute to the poor, and you will have treasure in heaven; and come, follow me." 23 But when he heard these things, he became very sad, for he was extremely rich. 24 Jesus, seeing that he had become sad, said, "How difficult it is for those who have wealth to enter the kingdom of God!
"So then have I become your enemy, because I tell you the truth?" Galatians 4:6

 

If you live for peoples approval you will die at their rejection.

 

The pain from passivity is far greater than the pain of initial conflict.

 
3) Nothing replaces daily Bible reading and prayer. 
"If you abide in me, and my words abide in you, ask whatever you wish, and it will be done for you." John 15:7
*ILL- Spurgeon being asked about which is more important, Bible Reading or Prayer.

 
4) The goal of ministry is a quality of disciple makers and not a quantity of disciples. 
"Him we proclaim, warning everyone and teaching everyone with all wisdom, that we may present everyone mature in Christ. 29 For this I toil, struggling with all his energy that he powerfully works within me." Colossians 1:28-29
""Enter by the narrow gate. For the gate is wide and the way is easy[a] that leads to destruction, and those who enter by it are many. 14 For the gate is narrow and the way is hard that leads to life, and those who find it are few." Matthew 7:13-14

 

The future of the church is found in the few, not the many.

 
5) The church is filled with the most broken and most beautiful people on earth. 
"To the church of God that is in Corinth, to those sanctified in Christ Jesus, called to be saints together with all those who in every place call upon the name of our Lord Jesus Christ, both their Lord and ours:" 1 Corinthians 1:2 
Charles Spurgeon once said: ""Give yourself to the Church. You that are members of the Church have not found it perfect and I hope that you feel almost glad that you have not. If I had never joined a Church till I had found one that was perfect, I would never have joined one at all! And the moment I did join it, if I had found one, I should have spoiled it, for it would not have been a perfect Church after I had become a member of it. Still, imperfect as it is, it is the dearest place on earth to us… All who have first given themselves to the Lord, should, as speedily as possible, also give themselves to the Lord's people. How else is there to be a Church on the earth? If it is right for anyone to refrain from membership in the Church, it is right for everyone, and then the testimony for God would be lost to the world! As I have already said, the Church is faulty, but that is no excuse for your not joining it, if you are the Lord's. Nor need your own faults keep you back, for the Church is not an institution for perfect people, but a sanctuary for sinners saved by Grace, who, though they are saved, are still sinners and need all the help they can derive from the sympathy and guidance of their fellow Believers. The Church is the nursery for God's weak children where they are nourished and grow strong. It is the fold for Christ's sheep—the home for Christ's family." –Charles Spurgeon, "The Best Donation," (No. 2234) an exposition of 2 Corinthians 8:5 delivered on April 5, 1891 at the Metropolitan Tabernacle in London, England.
How Paul Saw Himself: 
– "least of the Apostles"  1 corinthians 15:9 
– "less than least of all God's people" Ephesians 3:8 
"the chief of sinners" 1 Timothy 1:16
6) Relationships are like crockpots not microwaves. 
And let us consider how to stir up one another to love and good works, not neglecting to meet together, as is the habit of some, but encouraging one another, and all the more as you see the Day drawing near. – Hebrews 10:24-25
7) I am married to my wife, not the church. 
"Husbands, love your wives, as Christ loved the church and gave himself up for her, Ephesians 5:25"
Keep a close watch on yourself and on the teaching. Persist in this, for by so doing you will save both yourself and your hearers. 1 Timothy 4:16
8) The point of everything is to point to Jesus. 
And I, when I am lifted up from the earth, will draw all people to myself." John 12:32
I would propose that the subject of the ministry of this house, as long as this platform shall stand, and as long as this house shall be frequented by worshippers, shall be the person of Jesus Christ. I am never ashamed to avow myself a Calvinist, or a Baptist …but if I am asked to say what is my creed, I think I must reply: "It is Jesus Christ."
Big Idea> Following Jesus is a long obedience in the same direction.