MANAGING GOD'$ MONEY | Matthew 6:19-34 | Where do I put it?
As we conclude our series, MANAGING GOD'$ MONEY, we can look back and see all the questions we have seen the scriptures answer in regards to our money.
Who's is it?(It's God's.) How do I earn it? (Honestly, humbly and diligently.) Why and how should I give it? (Our generosity is motivated by the Gospel.) 
This week we come to our final question… Where do I put it?
Jesus teaches that the best place you can invest your money is into the Kingdom of God. What is the Kingdom of God and how do I invest into it? Open your Bible to Matthew 6:19-34 and join us as we see the answers to these questions and how you can be a part of it! It's all about Jesus!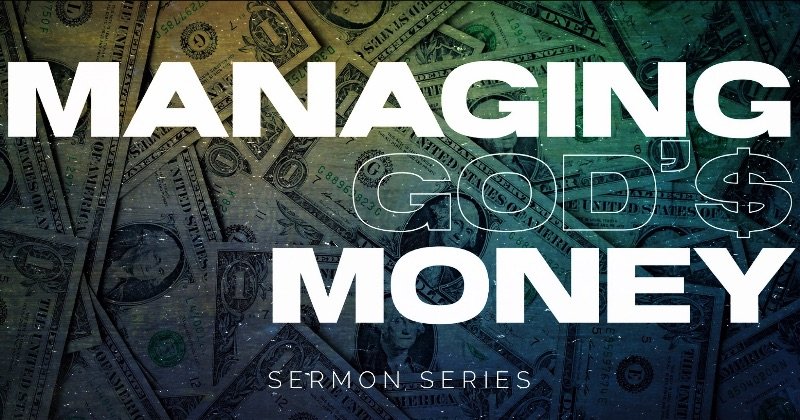 Date: October 27, 2019
Speaker:  Jason Jordan
Series: Managing God'$ Money
Watch the archived Facebook LIVE stream by clicking the button below!
Thank you so much for listening in here at West Side. We often say that we love the word of God because it points us to the son of God. We hope these messages encourage you and equip you to love Jesus more. We also want you to be apart of a local church, we believe these messages are only supplemental, being apart of a local church is essential. Blessings.
Sermon Notes
Managing God'$ Money Part 4: "Where do I put it?" Matt 6:19-34
PREVIEW: We know that the holidays are quickly approaching and we know that actually is sometime more heartbreaking than heartwarming, so next month we will begin a series entitled, "Home" (PIC) and walk through some biblical principles as to how to deal with family, then we head right into Advent! (PIC)
REVIEW: So we have walked through a journey when it comes to what the Bible has to say about money! 1) Whose is it? 2) How do I earn it? 3) Why and How do I give it? By far one of the most things that we have gotten feedback on is the order in how we live with our finances: 1) Live 2) Save 3) Give Jesus actually tells us to 1) Give 2) Save 3) Live (*Credit to Pastor Andy Stanley.)
APP> Before we get into our last and final question today, i ran across some helpful information from Ron Blue. We have to know where we are at before we can know where we are going financially. Ask the question, "Where am I?"
Financial Stages:
Struggling
Surviving
Stable
Secure
Surplus
INTRO> Today we are answering the final question, "Where do I put it?" When it comes to this question I have an absolute favorite story. This is a picture of John D. Rockefeller, one of the most influential and wealthiest Americans to ever live. He died in 1937 and at the time his total net worth was 1.5% of the nations total economic output, around $340 Billion. A few days after he passed a press conference was held and a reporter asked his accountant how much he left behind. His reply, "All of it." "Do not be overawed when others grow rich, when the splendor of their houses increases; for they will take nothing with them when they die, their splendor will not descend with them." Psalm 49:16-17
CONTEXT> Jesus touches on this very issue in our passage today. In Matthew 6:19-34 Jesus' Sermon on The Mount is his way of saying, "This is what it looks like to live under the rule and reign of God's good kingdom." Interesting he talks about money and directly links it to anxiety. What's the big Idea?
Big Idea > The best place to invest money is into the kingdom of God.
APP> This requires a little bit of work for us. We will ask two major questions, 1) What is the kingdom of God. 2) How do i invest?
What is the kingdom of God?
Jesus tells us to "lay up treasures in heaven" and then in v33 to "seek first the kingdom of God."

"After John was put in prison, Jesus went into Galilee, proclaiming the good news of God. "The time has come," he said. "The kingdom of God has come near. Repent and believe the good news!" – Mark 1:14-15
"The kingdom of God is like…."
APP> The kingdom of God is the reign of God through the people of God for the glory of God. *Roman playing basketball, he's always Stephen Curry
APP> The kingdom of God is not just a place that I am going but a life that I am living.
Notice in the text how Jesus relates this kingdom living with money! Jesus refers to the "gentiles"v32 the non Jewish people and says, don't live that way. Then he points out those who have money as their master v19, the Jews themselves. He says, I don't want you to live like either of those. Jesus also warms us another place about money and the kingdom of God:
"And Jesus said to his disciples, "Truly, I say to you, only with difficulty will a rich person enter the kingdom of heaven." Matthew 19:23" *Illustration: You've heard of the book by JRR Tolkien, Lord of The Rings. Gollumon find the ring, before and after "My Precious" it consumes him.
APP> You can either worship money or you can worship God with your money.
2) How do I invest into it?
"but lay up for yourselves treasures in heaven…" So how does one exactly do this? Well… that's why we defend it earlier, "The reign of God…." So we should ask this question: Where is the reign of God seen?
The lives of his people.
His people are the Church.
"But you are a chosen race, a royal priesthood, a holy nation, a people for his own possession, that you may proclaim the excellencies of him who called you out of darkness into his marvelous light. Once you were not a people, but now you are God's people; once you had not received mercy, but now you have received mercy." 1 Peter 2:9-10
APP> You invest money into the kingdom of God by giving to where the kingdom of God is being proclaimed and applied.
"After this, Jesus traveled about from one town and village to another, proclaiming the good news of the kingdom of God. The Twelve were with him, 2 and also some women who had been cured of evil spirits and diseases: Mary (called Magdalene) from whom seven demons had come out; Joanna the wife of Chuza, the manager of Herod's household; Susanna; and many others. These women were helping to support them out of their own means." Luke 8:1-3
APP> Ministry doesn't follow money. Money follows ministry.
APP> How do you know the kingdom of God is being proclaimed and ministry is happening? Changed lives.
Addictions are being broken
Marriages are being restored
People are being baptized
The hungry are fed. 
Transition to asking:
There is real ministry happening at WS
It's time to make some real updates for more ministry.
We are asking you to invest in God's Work at West Side, to go above and beyond what you normally give.
What For? More ministry, kids first
How much? We are kicking around a number
Whose in charge? Board, Committee, Members
How long?  We want to start in 2020
How do I do it?
Website
Check's Memo: God's Money Campaign
Envelopes
*Story of the $62,000 donation.
"Your move." – God
Big Idea > The best place to invest money is into the kingdom of God.