NEW YEAR NEW FAMILY | Week 1 | Joshua 24:14-15
Join us as we launch into 2022 with a new series, NEW YEAR NEW FAMILY! Open up your Bible to Joshua 24 and see how the only foundation to form a family is found in Jesus Christ!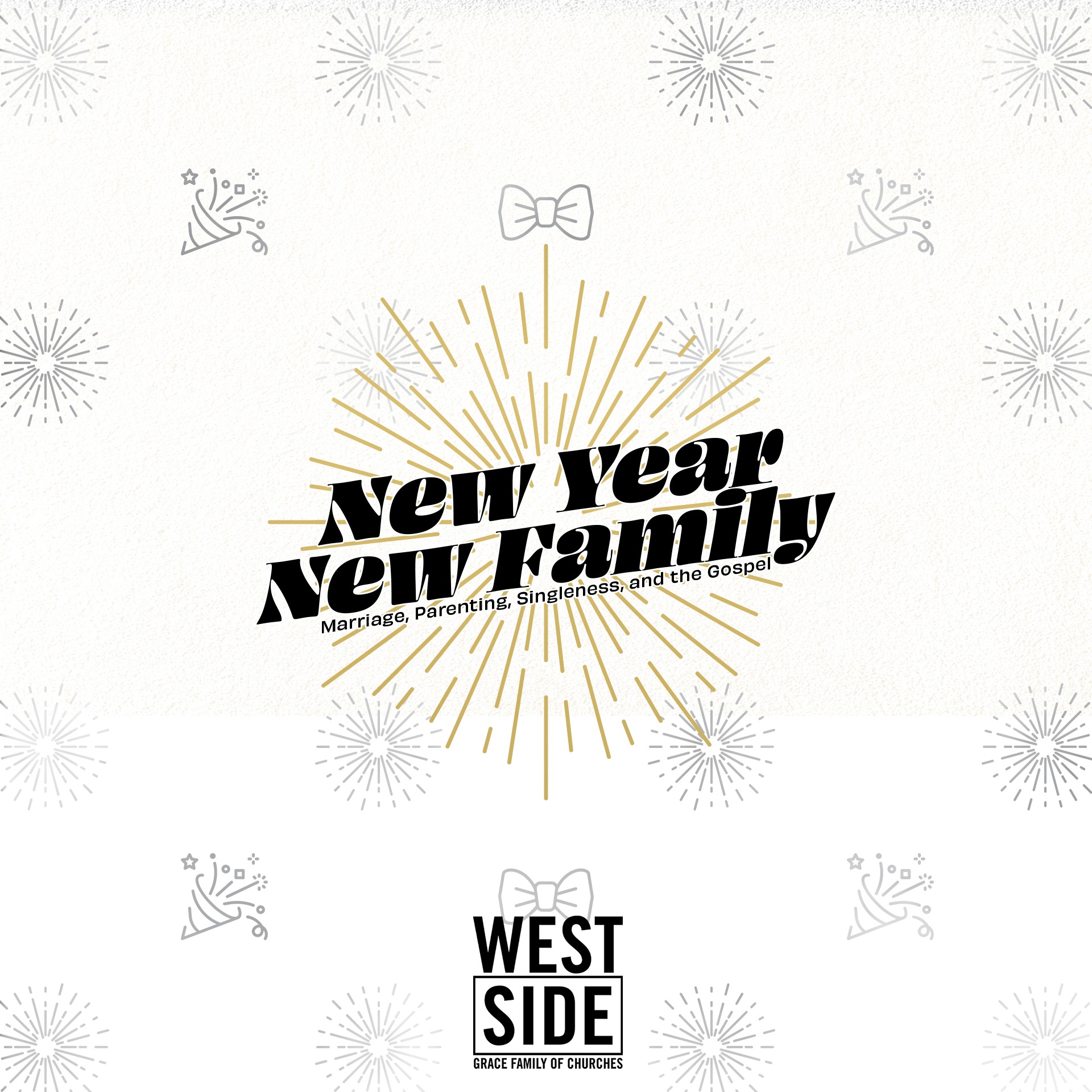 Date: Jan 9, 2022
Series: New Year New Family
Watch the archived Facebook LIVE stream by clicking the button below!
THE REST OF THE SERMON | New Year New Family | Week 1
Thank you so much for listening in here at West Side. We often say that we love the word of God because it points us to the son of God. We hope these messages encourage you and equip you to love Jesus more. We also want you to be apart of a local church, we believe these messages are only supplemental, being apart of a local church is essential. Blessings.
SERMON NOTES
New Year New Family Part 1- "Breaking Down & Building Up"
INTRO> Well, it's a new year and we are giving ourselves to one of our FOCUS words for 2022: Family. To start this series we need to start where Robert Stevenson began in the early 1800's. Stevenson was the builder on the Bell Rock Lighthouse off the coast of Scotland. It's so famous that it's mentioned in Moby Dick and is considered one of the 7 wonders of the industrial world! This lighthouse has been in operation for over 200yrs and was built so well, that in all those years, there hasn't been a single brick replaced or repaired! What was the secret? The lighthouse is actually built on a reef of solid rock, the reef is covered with water for 20hrs out of the day, only 4 hrs is it exposed. It stands 115ft tall, Stevenson's design for the lighthouse came from an Oak Tree? Why? Because this… Oak trees are able to go as HIGH as they do because of how DEEP the roots go. Translation, Stevenson knew that the key was: Foundation. All in all, the lighthouse has a base of 2,500 granite stones at it's base. 
APP> We start where Stevenson started because that's the goal of this series: To break down old foundations and build up new foundations for your family.
"

According to the grace of God given to me, like a skilled master builder I laid a foundation, and someone else is building upon it. Let each one take care how he builds upon it. 11 For no one can lay a foundation other than that which is laid, which is Jesus Christ. 12 Now if anyone builds on the foundation with gold, silver, precious stones, wood, hay, straw— 13 each one's work will become manifest, for the Day will disclose it…" 1 Corinthians 3:10-13

"Everyone then who hears these words of mine and does them will be like a wise man who built his house on the rock. 25 And the rain fell, and the floods came, and the winds blew and beat on that house, but it did not fall, because it had been founded on the rock." Matthew 7:24-25
Big Idea > The only foundation to form a family is found in Jesus Christ. 
APP> But why is this important? Well very simple… The family is foundational to our formation.  That is true in both the positive and the negative. It's also very important to know why type of family we come from to better understand how we have been shaped: 
4 Types of Families: 
Ungodly families that remain ungodly.

 

Godly families who turn ungodly.

 

Ungodly families who turn godly.

 

Godly families that remain godly.

 
CONTEXT> In our passage today, Joshua the leader of Israel is dying, these are his last words. God promised Abraham and Moses land, Joshua is leading his people into this NEW land. The whole context of Joshua is NEW and Joshua dresses the "HOUSE" because Joshua knows, the family is foundational. . Let's look at two major heading to collect our thoughts:
Break down the old foundations.

 
v14"Put away the gods that your fathers served…" What is Joshua talking about here? Why does he mention this? Anytime Israel entered into a new land, there is always the temptation to conform to the cultural Gods…"

 
APP> Joshua is teaching us a profound principle here… You have to go back in order to go forward.  Why? Well, I am going to lean heavily on the work of Peter Scazzero in his book "Emotionally Healthy Spirituality" in it, he talks about our family of origin and how, no matter positive or negative we have been formed or deformed by our family of origin He says two key things: 
The blessings and sins of our families going back two to three generations profoundly impact who we are today.

 

Discipleship requires putting off the sinful patterns of our family of origin and relearning how to do life God's way in God's family.

 
"Now therefore the sword shall never depart from your house, because you have despised me and have taken the wife of Uriah the Hittite to be your wife."- 2 Samuel 12:10

 

"The Lord, the Lord, a God merciful and gracious, slow to anger, and abounding in steadfast love and faithfulness, 7 keeping steadfast love for thousands, forgiving iniquity and transgression and sin, but who will by no means clear the guilty, visiting the iniquity of the fathers on the children and the children's children, to the third and the fourth generation."- Exodus 34:6
APP> All sin is equally damming but not all sin is equally devastating. *ILL> PIC OF "10 Commandments of Family"
2) Make the choice, today. 
"But as for me and my house we will serve the LORD." Joshua brings the people of Israel to a decision to a pressing point.

 
APP> We want to help you with that. (PIC) we have a family covenant for you. For you and your family to sign and to hang in your home. This is a vision for your family, a declaration. 
*ILL> My prayer is that your home will experience what the great Ohio Judge John McLean of the United States Supreme Court experienced. He took the oath of office on January 11th, 1830 and served for 30 years on the Supreme Court. He was an outspoken atheist and a great thinker. He is most famous for being involved in the "Dread Scott Case" and was an outspoken opponent of slavery. One day Judge McLean heard the good news of Jesus Christ and gave his life over to Jesus. History records that he rushed home to tell his family. He burst through the doors and said, "I have just found that Jesus died on the cross for me. Let us go to the drawing room and pray together." Little did he know that a group of lawyers was at his home waiting on him to sign some papers, it was a pressing issue. Judge McLean said, "I have given myself to Jesus and now I propose to invite him to my house today. You may do as you please stay or go; but I want Christ in this home, and now I am to make my first prayer in my own house."

Big Idea > The only foundation to form a family is found in Jesus Christ.