NEW YEAR NEW FAMILY | Week 2 | Joshua 24:14-15
Join us as we come to God's Word and find that as families we should define who we are and declare where we are going!
It's all about Jesus!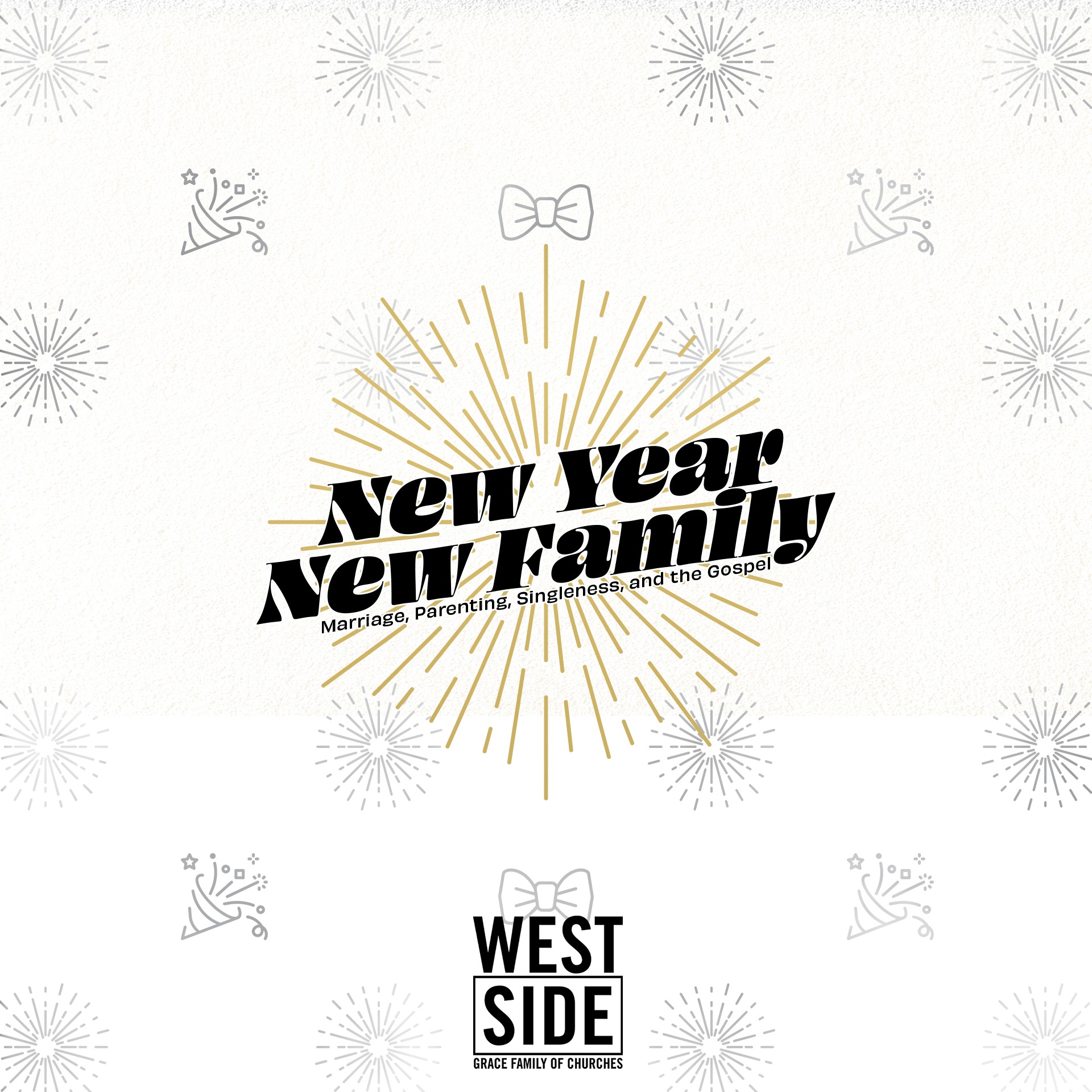 Date: Jan 16, 2022
Series: New Year New Family
Watch the archived Facebook LIVE stream by clicking the button below!
THE REST OF THE SERMON | New Year New Family | Week 2
Join us for The Rest of the Sermon as we talk about week two of our new series New Year New Family!
Thank you so much for listening in here at West Side. We often say that we love the word of God because it points us to the son of God. We hope these messages encourage you and equip you to love Jesus more. We also want you to be apart of a local church, we believe these messages are only supplemental, being apart of a local church is essential. Blessings.
SERMON NOTES
New Year New Family- Part 2 H.O.U.S.E
REVIEW> We started a new series last week, let's review: 
The goal of this series is to breakdown old foundations and to build up new foundations for our families.

 

Reading this Wednesday in our Bible reading plan, "If the foundations are destroyed, what can the righteous do?" Psalm 11:3
Why? Because we said this, The Family is foundational to our formation.

 
*ILL> I found this to be so true this week with the news of the passing away of the Actor Bob Saget. He was born May 17th, 1956 and passed away January 9th, 2022, in his sleep, no suffering. He is by far most famous for playing the Dad Danny Tanner in the TV show FULL HOUSE. What I found so interesting was what the LA Times summarized in their article, "Remembering Americas Dad" See people post about "how he raise me!" It got me thinking about how true the statement is, that the family is foundational to our formation: 
I love Lucy 1957
Leave it to Beaver 1958
The Brady Bunch 1969

 

The Cosby Show 1984
Family Matters 1989
Full House 1987

 

The Simpsons 1989 (Longest running TV show at 33yrs)

 
CONTEXT> What is it important to look at this? Well, I think this gives us a cultural commentary on what the culture thinks is a family and here is the truth, The culture is constantly changing, therefore, the cultures view of family is constantly changing. How is this applicable to us today? Well, in the passage Joshua tells us of two influence upon the family: 
The Two Main Influences on the Family: 
Generational Influence- "…the gods of your fathers…"

 

Cultural Influence – "…the gods of the Amorites in whose land you dwell…"

 
Big Idea> Every family must define who they are and declare where they are going.
CONTEXT> The way that Joshua leads the people of Israel to do that, is through a covenant:
"And the people said to Joshua, "The Lord our God we will serve, and his voice we will obey." 25 So Joshua made a covenant with the people that day, and put in place statutes and rules for them at Shechem. 26 And Joshua wrote these words in the Book of the Law of God. And he took a large stone and set it up there under the terebinth that was by the sanctuary of the Lord." Joshua 24:24-26
APP> That's what we wanted to accomplish with the declaration that you took home last week. Last week you made the choice. This week we are defining what defines our family. Using the word H.O.U.S.E: 
HOLY
"Speak to all the congregation of the people of Israel and say to them, You shall be holy, for I the Lord your God am holy."- Leviticus 19:2 Now I know I need to do a little work here. You're like, holy, ha! The word holy קָדַשׁ qāḏôš means "sacred, separate, set a part"

 
*ILL> My Air Jordan shoes, I have rules on when I can wear them. Why? APP> The value affects the view.
APP> How is my house set a part from the world? 
2) OBEDIENT. 
"If you love me, you will keep my commandments."John 14:15 I teach on this any chance I can… notice the order that the words come in.. LOVE… OBEY.

 

Drop down and look in verse 15 of Joshua… why are they living differently? Because God saved them!

 
APP> Religion says, "If I obey then I will be accepted." The Gospel says, "Because of Jesus I am loved and accepted therefore I am free to obey." 
APP> In our home, we will love God's way as revealed in God's Word. 
3) UNITED. 
"I do not ask for these only, but also for those who will believe in me through their word, that they may all be one, just as you, Father, are in me, and I in you, that they also may be in us, so that the world may believe that you have sent me." John 17:20-21 If the thrust of what Jesus is saying is the unity of the family will be a witness to the world… if I was the enemy, what would I do?

 

"The thief comes only to steal and kill and destroy; I have come that they may have life, and have it to the full." John 10:10
APP> The goal of the enemy is to sow hostility in the family. 
APP> How is our family intentionally fighting for unity? 
4) SERVING 
8 But you are not to be called 'Rabbi,' for you have one Teacher, and you are all brothers. 9 And do not call anyone on earth 'father,' for you have one Father, and he is in heaven. 10 Nor are you to be called instructors, for you have one Instructor, the Messiah. 11 The greatest among you will be your servant. 12 For those who exalt themselves will be humbled, and those who humble themselves will be exalted. Matthew 23:8-12
30 And you shall love the Lord your God with all your heart and with all your soul and with all your mind and with all your strength.' 31 The second is this: 'You shall love your neighbor as yourself.' There is no other commandment greater than these." Mark 12:30-31
Application> The greatest accomplishments for the kingdom of God, begin at home. 
5) EVERYONE 
"16 Live as people who are free, not using your freedom as a cover-up for evil, but living as servants[a] of God. 17 Honor everyone. Love the brotherhood. Fear God. Honor the emperor." 1 Peter 2:16-17
Review H.O.U.S.E 
Big Idea> Every family must define who they are and declare where they are going.