NEW YEAR NEW FAMILY | Week 6 | Stewarding Singleness Well
Join us in 1 Corinthians 7 as we unpack our culture's view on being single and the biblical view of how singleness is a gift to be stewarded well! It's all about Jesus!
It's all about Jesus!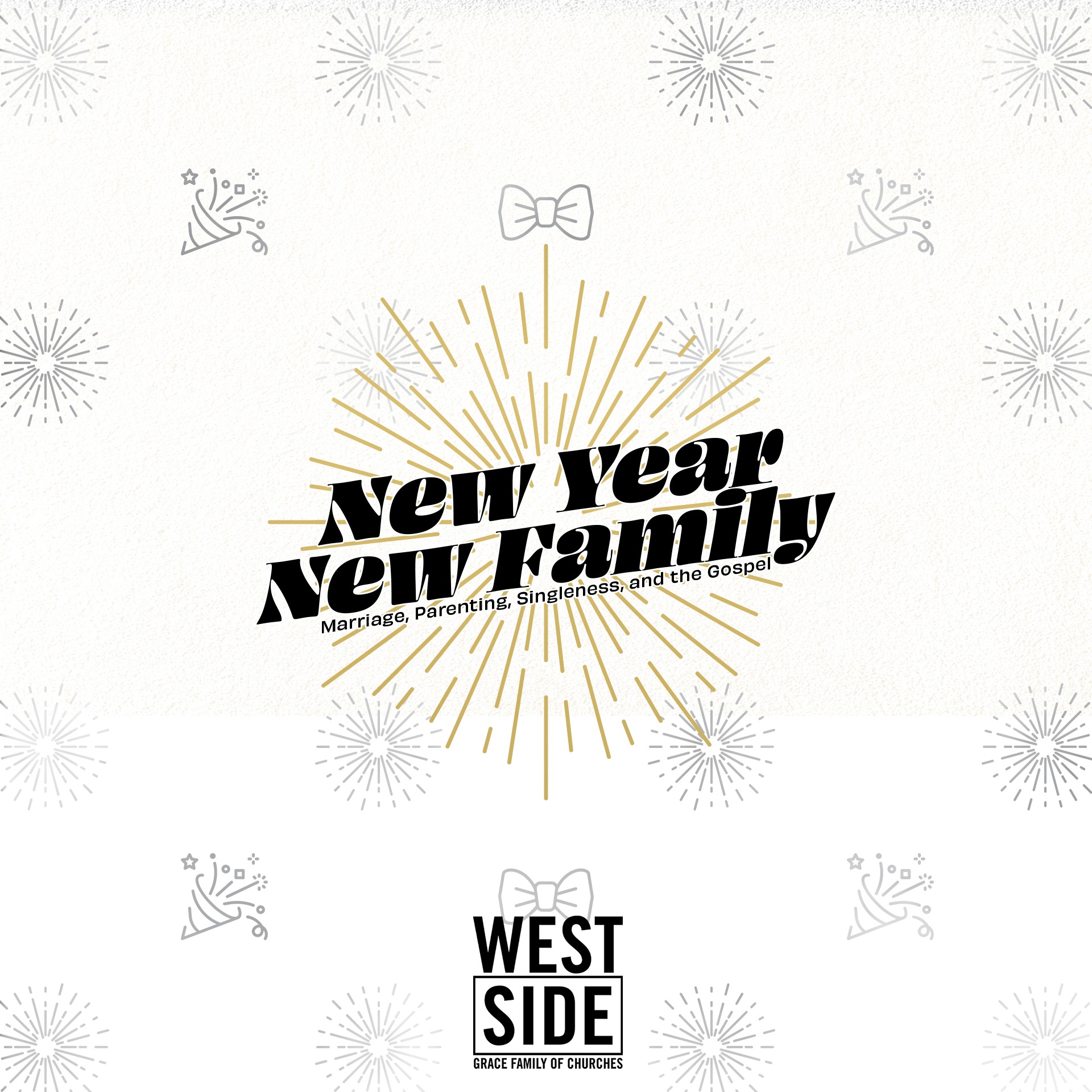 Date: Feb 13, 2022
Series: New Year New Family
Watch the archived Facebook LIVE stream by clicking the button below!
Thank you so much for listening in here at West Side. We often say that we love the word of God because it points us to the son of God. We hope these messages encourage you and equip you to love Jesus more. We also want you to be apart of a local church, we believe these messages are only supplemental, being apart of a local church is essential. Blessings.
SERMON NOTES
New Year New Family "Sacred Singleness" 1 Corin 7 
REVIEW> We are in our series, Breakdown old foundations and build up new ones! Last week was wives, great response. I switched things up. 
INTRO> This is also Valentines weekend! So it seems to be like a perfect storm, a series on family and valentines! If you are asking, "Why would you do a sermon about singles in a series on the family?" I would say… your question is your answer. Also, All families have singles and all singles have families.
In 2020, nearly 4 out of 10 adults between ages 25 and 54 were neither married nor living with a partner – a 30% increase since 1990, according to a Pew Research Center study.

 

The number of single-person households in the U.S. has doubled from 18.2 million in 1980 to 36.1 million today, according to census figures.
People are waiting longer than ever to get married. 12 years ago it was 27, now it is 32!
APP> That's a large group of people! And honestly… the church hasn't done a good job of handling this topic or loving this group of people. I did an official face book post again and the overwhelming amount of people said, "I wish the church knew there wasn't something wrong with us!" Why would they respond that way? 
Two Errors: 
The Culture– Demonizes the family by saying, 'A Family will restrict you from getting what you want."
The Church – Idolizes the family by saying

 

"A Family will give you everything you want."

 
Context> So we have established that this is a large part of our families and population and the church hasn't handled this to well, what do we do? Well… we turn to scripture. You have to understand what 1 corinthians is. It's Paul answering a series of questions that they asked. Chapter 7 can be outlined like this:
Christians married to Christian 7:1-11
Christians married to Non-Christians 7:12-24
Unmarried Christians 7:25-40
Paul sort of bounces around in the chapter but in 25-40 are his clearest teaching on singleness. We have to understand something first, Paul frames the argument for us right in the beginning. Paul uses a particular word, "I wish that all were as I myself am. But each has his own gift from God, one of one kind and one of another." 1 Corinthians 7:7 The word that Paul uses for the word "gift" is the same word that he uses in chapter 12 referring to Spiritual Gift, it's the word, "charisma" that word literally means "a divine grace, benefit, endowment" 
Big Idea > Singleness is a gift given by God to be stewarded well. 
*ILL> "Single life may be only a stage of a life's journey, but even a stage is a gift. God may replace it with another gift, but the receiver accepts His gifts with thanksgiving. This gift for this day. The life of faith is lived one day at a time, and it has to be lived—not always looked forward to as though the "real" living were around the next corner. It is today for which we are responsible. God still owns tomorrow." ― Elisabeth Elliot, Let Me Be a Woman
APP> So the question before us now is this, "How can I steward my gift of singleness well? 3 Questions to ask yourself from the text. 
Do I have an eternal perspective? v25-31
"present distress" it means hardship or affliction. We don't know exactly what he is talking about but he is probably referencing the persecution of Christians under Nero.

 

Notice he v29 and v31 he references time and things passing away. Everything in this world has an expiration date on it!

 
APP> What Paul is saying is, could you imagine having a family admits this persecution? Also, everything is passing away and marriage isn't eternal… Jesus in Matthew 22:30 "For in the resurrection they neither marry nor are given in marriage, but are like angels in heaven.
APP> Live as though your hope is in heaven. 
2) Am I building God's kingdom or my kingdom? v32-25
Paul is breaking it down and just speaking facts. He is essentially saying this, Married people have worldly problems that they have to deal with because they are married. Single people don't have those problems and they should dedicate themselves to serving.

 
*ILL> John Stott was a bible scholar and has made a huge impact on my life. Stott was single all of his life, 90 years. He was good friends with Billy Graham. They often wrote each other, one month Billy responded to all that stott had been doing with this: "Thank You for your November letter. Just reading it made me a bit exhausted! How do you do it my friend? If you had a wife, five children, five -in-laws and 15 grandchildren, it would be rather difficult. Please forgive me if I am not able to keep up with you." 
APP> Singleness shouldn't lead to selfishness. Singleness should be leveraged to serve a greater purpose, the kingdom of God. 
3) What is my motivation? v36-40
This is a little controversial, I think Paul is saying more than… "if you can't keep your pants on then get married" because that's no basis for marriage.

 

Notice the language, "heart" 2x "determined" "firmly established.

 
APP> Here is what Paul is saying, WHAT you do is not as important as WHY you do it. 
Big Idea > Singleness is a gift given by God to be stewarded well.