Palm Sunday | Mark 11:1-11
Throughout human history we recognize kingdoms and authorities by their display of power. Generals marching with their tanks and soliders on display. Kings displaying their authority by their armies and wealth. We often associate kings and authority with their power and might. 
In the gospel of Mark we see a similar scene. But contrasted next to Pilate in his power and might is Jesus. Jesus shows us that the Kingdom of God rules and reigns by a much different king of authority. He shows us that victory comes through humility. 
Join us in Mark 11:1-11 as we enter into Holy Week and see how it's still all about Jesus.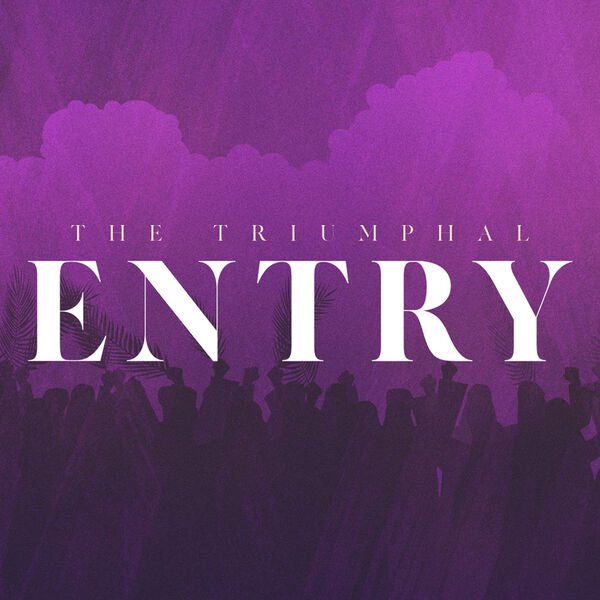 Date: April 5, 2020
Speaker:  Jason Jordan
Series: Holy Week 2020
Watch the archived Facebook LIVE stream by clicking the button below!
Thank you so much for listening in here at West Side. We often say that we love the word of God because it points us to the son of God. We hope these messages encourage you and equip you to love Jesus more. We also want you to be apart of a local church, we believe these messages are only supplemental, being apart of a local church is essential. Blessings.
Sermon Notes
Palm Sunday 2020- "The King Enters" Mark 11:1-11
INTRO> Today, Palm Sunday starts what is known on the church calendar as "Holy Week" The word Holy literally means "separate" Which helps us understand why this week is so significant. There are 89 Chapters in all 4 gospels combined, out of those 89 chapters 29 of them focus only on Jesus last week. Andy Naselli to say "The Gospels are essentially passion narratives with extended introductions." Today is about Jesus entrance into Jerusalem. Entrances are important. One entrance I will never forget is my wife on our wedding day. We got married on current river at a beautiful cabin that had 3 stories of stairs leading down to this huge deck that overlooked the river. Her Dad walked her down, in the white dress, it was so incredible. It was literally perfect. She said she kept telling her Dad, "Don't let me fall…" lol!
CONTEXT> Palm Sunday is known as the "triumphal entry" The word triumphal is defined in the Oxford English dictionary as "done or made in order to celebrate great success or victory." But in the passion narrative… Jesus hasn't "won" anything yet.. he is actually going to.. die. What kind of victory is that? If Jesus is entering as a king… he is a king that dies? "Palm Sunday is the trojan horse of the Christian Holidays."  Fleming Rutledge Why? well because… it's not like anything that we would write up. You see the way that Jesus enters into Jerusalem means something….
Mark is writing to a Roman audience which is why he leaves out so many Jewish insights
Rome rule the known world at the time, Jerusalem is under Roman providence. Caesar was declared "the son go God"
Pilate is the governor in the Judea region at this time.
It's the Passover week which means that literally thousands upon thousands of people are in the city.. and the Jewish people out number the Roman people.
What Pilate would do is ride into Jerusalem from the West, on his war horse and chariot. Horses were symboled of power and authority. (PIC)
Soldiers would bang their swords and they would even carry his trophies.
APP> Comparing and contrasting
Now look at how Mark is describing Jesus.
"colt" used 4x Not a battle horse but a common, ordinary work animal.

There is no army marching with him.
APP> Do you see the difference here?
One comes in with power and might seeking glory

The other comes in humble and what?

100 years later, Rome fall and loses it's power. When is the last time you even mentioned or though about pilate and his entrance… You see? who actually gets the victory?
Big Idea > Victory comes through humility
Only two ways to enter a conversation, on a horse with power or on a donkey with humility.

Only two ways to enter the work place

Only two ways to parent a child

Only two ways to view your marriage.
APP> But you see…. humility requires something… it requires trust. Who is going to look out for me? Who is going to defend me?
Everybody loves the verse in

1 Peter 5:7 "Cast all your anxiety on him because he cares for you."

but do you know what the verse before that is?

"Humble yourselves, therefore, under God's mighty hand, that he may lift you up in due time." 1 Peter 5:6
CONTEXT> Notice what Jesus is doing in the first part of the passage, making all these arrangements. He seems to be very in control, why? Because he is.
500 years before this God prophesied this very thing:

"Rejoice greatly, Daughter Zion! Shout, Daughter Jerusalem! See, your king comes to you, righteous and victorious, lowly and riding on a donkey, on a colt, the foal of a donkey." Zechariah 9:9
Options on how to live:
Fear and Anxiety

– God can't handle the details.

Bitterness and Anger

– God got it wrong

Humility and Faith-

Trust in God when I don't know.
Big Idea > Victory comes through humility
*Notice this last thing in verse 11: "he entered the temple and looked around…" he would have seen everything that was going on… especially the sacrifices… and knowing, in less than a week he was going to be the sacrifice
The next verse in the prophecy from Zechariah, says this : "I will take away the chariots from Ephraim and the warhorses from Jerusalem, and the battle bow will be broken. He will proclaim peace to the nations. His rule will extend from sea to sea and from the River to the ends of the earth."
God is saying, I'm not going to "win" that way, through power and might… What wins is sacrifice…
But Jesus has another entrance… its his last recorded entrance…
"I saw heaven standing open and there before me was a white horse, whose rider is called Faithful and True. With justice he judges and wages war.  His eyes are like blazing fire, and on his head are many crowns. He has a name written on him that no one knows but he himself. He is dressed in a robe dipped in blood, and his name is the Word of God. The armies of heaven were following him, riding on white horses and dressed in fine linen, white and clean.Coming out of his mouth is a sharp sword with which to strike down the nations. "He will rule them with an iron scepter."He treads the winepress of the fury of the wrath of God Almighty.On his robe and on his thigh he has this name written: king of kings and lord of lords." Revelation 19:11-16
Big Idea > Victory comes through humility