The Bible Doesn't Say That | Luke 18:9-14
In our final week of the sermon series "The Bible Doesn't Say That", Pastor Jason Jordan dives into the phrase "The Lord Helps those who help themselves".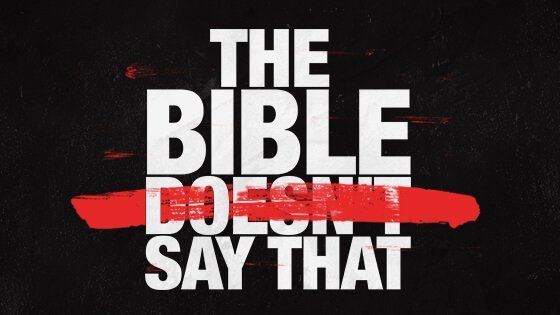 Date: June 20, 2021
Series: The Bible Doesn't Say That
Watch the archived Facebook LIVE stream by clicking the button below!
THE REST OF THE SERMON | The Jordan Family
We love family at West Side, and this week, Jason's family joins him in the podcast room for an extra special episode where we learn more about them and what they are up to this summer. 
Thank you so much for listening in here at West Side. We often say that we love the word of God because it points us to the son of God. We hope these messages encourage you and equip you to love Jesus more. We also want you to be apart of a local church, we believe these messages are only supplemental, being apart of a local church is essential. Blessings.
SERMON NOTES
The Bible Doesn't Say That: Week5 Luke 18:9-14 
REVIEW>This has been a fun series! We have looked at these cliche sayings that have found their way into the Bible. Why? We are moving the direction of maturity. (*Show Graphic) 
TRANS> This weeks phrase has been a little bit more difficult than the rest and here's why. I learned a new word this week, it's a word that has been used by phscycologist describing politicians. The word is paltering. Paltering- is the act of using truthful facts to deceive someone. Crazy right? You mom asks "Did you get your home work done." You respond "I Wrote an essay about Jesus." 
APP> That's what makes our statement this week so difficult. There is an element of truth in it, depending on the context and how it is used BUT I think in the end… it leads to an unbiblical idea… You ready… "The Bible Says God helps those who help themselves." It's a poplar saying and George Barna did a study and 81 % of Christians thought it was a bible verse. Let's look at the history of this statement: 
It's oldest origins comes from the Greeks and Aesop's Fables, the wagon and the wheel.

 

Benjamin Franklin is famous for using the phrase.

The most shocking was, Matthew Henry, the Puritan Bible scholar, said this in his commentary on Joshua 5 when the walls of Jericho fell, "Note, God will helps those that help themselves." I was shocked!
APP> So what do we do about this? Well, really quickly I think the context that this phrase is used is massively important. By that I means, the context of salvation and the context of our good works. 
When it comes to our salvation, God doesn't help those who help themselves. God saves the helpless.

 
"For while we were still helpless, at the right time Christ died for the ungodly." Romans 5:6 (NASB)

 

"For by grace you have been saved through faith; and this is not of yourselves, it is the gift of God; 9 not a result of works, so that no one may boast." Ephesians 2:8-9

"…apart from me you can do nothing." John 15:5 But if we do nothing we will also be apart from Jesus.

 
2) When it comes to our growth and good works we do not live a passive life but a partnered life with God. 
"Now no shrub of the field was yet on the earth, and no plant of the field had yet sprouted, for the Lord God had not sent rain upon the earth, and there was no man to cultivate the ground." Genesis 2:5

 

"For we are God's fellow workers…" 1 Corinthians 3:9a

"So also faith by itself, if it does not have works, is dead." James 2:17
APP> The reality is that I could go on and on with verses showing you these distinctions Remember what I said in the beging about Paltering… I think we need to be careful about something and the phrase "God helps those who help themselves" often times leads us to a dangerous place. We need to know the difference between: Effort vs Earning 
"The path of spiritual growth in the riches of Christ is not a passive one. Grace is not opposed to effort. It is opposed to earning. Effort is action. Earning is attitude. You have never seen people more active than those who have been set on fire by the grace of God. Paul, who perhaps understood grace better than any other mere human being, looked back at what had happened to him and said: "By the grace of God I am what I am, and his grace toward me did not prove vain; but I labored even more than all of them, yet not I, but the grace of God with me." (I Cor. 15:10)" – Dallas Willard

 

Earning says, "Look at all that I've done for God, God owes me."

 

Effort says, "Look at all that God has done for me, I want to be a good steward."
Earning says, "If I obey then I have to be accepted."
Effort says, "In Jesus, I am accepted and forgiven therefore I am free to obey."

 
CONTEXT> You say, but what does this look like? Well, look at our passage. The key to the entire thing in found in v9 which tells us two key points. If we live a life based on earning we will: 
Trust in my own efforts and abilities. (Anxiety)
Despise those who don't work as hard as me.

 
APP> So how can we know if we are living a life of earning or a life of grace driven effort? Well, look at the Pharisee and ask yourself these four questions questions: 
Do I care more about my appearance and my reputation than I do my heart?

 

Do I desire positions of prominence?
Do I look down on and judge others?

 

Do I keep score?

 
APP> Now in transition and in closing… look at the tax collector. 
Big Idea > God saves the helpless.
Corporate Prayer: 
"Heavenly Father, I confess that I have viewed you wrongly. I confess that at times, I have tried to earn your favor in my life by my good works. I confess all the wrong that I have done and turn to embrace Jesus Christ our Lord. 
Father, I confess that I can not change myself. I ask that through the power of your Holy Spirit that you would renew my mind, soften my heart and strength my hands for the work of your kingdom. 
I receive by faith the grace that you offer through your son, Jesus Christ. I pray like the tax collector, "God, be merciful to me, the sinner!" 
May I hear and believe the words of Jesus Christ, "You are forgiven!"
Amen!"