Defining Moments Part 1
As we start a new mini series, we dive into the history and origin of West Side. We look at how the quality of our lives is dependent on how we respond to these moments and ask "What is God Saying to Us?"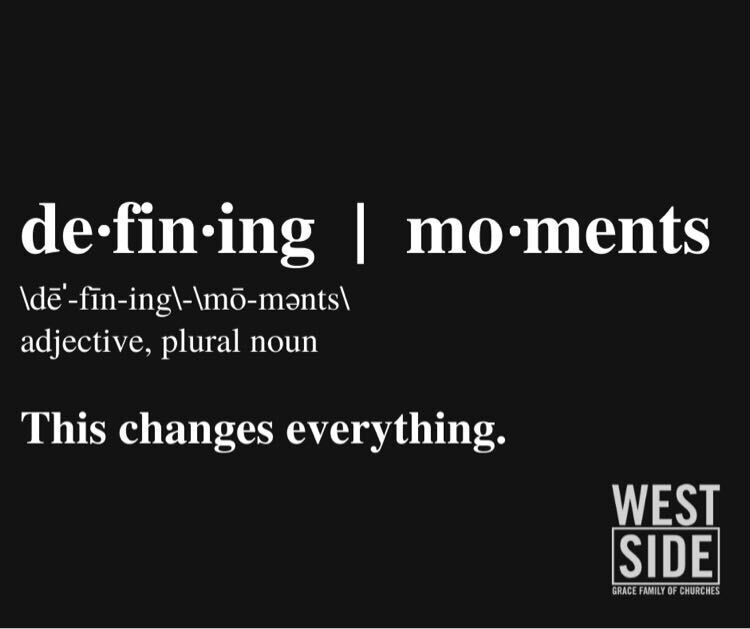 Date: August 14, 2022
Series: Defining Moments
Watch the archived Facebook LIVE stream by clicking the button below!
THE REST OF THE SERMON | DEFINING MOMENTS PART 1
We're back!! Join us on this fresh episode as we recap what has been going on in the life of the church and the start of a brand new sermon series! Be sure to share and subscribe to the podcast So you can enter into a chance to win eternal life!
Thank you so much for listening in here at West Side. We often say that we love the word of God because it points us to the son of God. We hope these messages encourage you and equip you to love Jesus more. We also want you to be apart of a local church, we believe these messages are only supplemental, being apart of a local church is essential. Blessings.
SERMON NOTES
Sermon Series- Defining Moments- Part 1 Mark 1:14-15
INTRO> I wanted to take a few weeks before we launch into our big Fall vision series and look ahead to what God has for us, to gather together as a body and ask one core question… before we ask the question, let's set it up. 
I want you to shout out some dates that are personally important to you…. go!

 
APP> We could sit here all day and shout out dates… why is this important? Well these aren't just moments… these are defining moments. The O.E.D of a defining moment is "the point at which a situation is clearly seen to start to change" Or let's define it this way:
A defining moment is an experience that is memorable, meaningful and missional.

That's it, ins't it? Why are these moments so important in our lives? 
Our lives are the sum total of all our defining moments.

 

The quality of our lives is dependent on how we respond to these defining moments.

 
*ILL> This church is a series of defining moments and how people responded to them… 
On April 26th 1964, 33 people met in the basement of Margret and Ted Crosses home for the first official worship service of West Side Church of God. PIC
December 31st 1964, they built their first building on Harper and Mill for $35,000 PIC
In the Spring of 1974, Reverend Billy Wiles became the pastor and the church purchased two parcels of land on the corner of Channon Dr and Barron Road. PIC

 
APP> You see, these were defining moments in this churches life, and these people discerned what God was saying to them and responded. 
Can i suggest another defining moment date in this churches history? July 13th, 2022. I believe that JT's passing is a defining moment in the history of our church… memorable, meaningful and missional..
"Pain insists upon being attended to. God whispers to us in our pleasures, speaks in our conscience, but shouts in our pain: it is His megaphone to rouse a deaf world." C.S. Lewis, The Problem of Pain.

 
Big Idea> What is God saying to us? 
CONTEXT> What if I told you that we could discern what God was saying to us in this defining moment as a congregation? In Mark 1, it is Jesus' first public appearance and it is also his first recorded sermon. It is, in a sense, a defining moment…
Chrons= chronological time 
Kairos= God's time! Perfecting timing! 
Kairos Moment :
*ILL> in 1994, when Art and Denise Smith had recently become part of Grace when their son Jesse was diagnosed with a very serious form of cancer. He was a student at the time, and his family was relatively new to the church, but whenever he went to the hospital, it seemed like the entire Grace community showed up—the local Children's Hospital foyer was crammed with people Art and Denise barely knew.
AFTER THREE YEARS OF HARD FIGHTING, JESSIE DIED IN 1997. The memorial was at home plate of the local high school baseball field, just as he had requested, and thousands of people showed up. At the end of the service, they gave an invitation that anyone who wanted to accept Christ meet out in centerfield. There was revival—hundreds of people came to faith, many of whom are still spiritual leaders around Grace and beyond today. It was God's beautiful answer to Jessie's desperate prayer.
Big Idea> What is God saying to us? and What are we going to do about it?