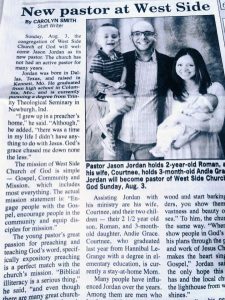 This Sunday will mark 5 years of ministry for me as lead pastor at West Side! My family and I are so grateful for the leadership, people, and time that God has given us here at West Side. We couldn't think of any other place or people that we would want to give our lives to! As we look back on these 5 years and all that has changed and all that God has done, there are a few important lessons that I believe the Lord has showed us along the way. If you are a fellow pastor or church member, I hope and pray that these things are helpful to you! 5 years 5 lessons….
1)

 

Progress not perfection.
In the age of social media filters and access to instant information, it is easy to compare your small progress to another's filtered perfection. I'm going to tell you a secret. Pastor's might be the most guilty of this. Looking at other church's budgets, buildings, or bible school program we start to think, "Wow, THAT church is really doing well." I think if you walked into a worship gathering at West Side today you might say, "Wow, this church has it all." What you wouldn't see is that 5 years earlier we were playing YouTube worship videos on a Sunday morning because we didn't have anyone to lead us in song on Sunday's gathering. One Sunday we even played by accident a video commercial from the Latter Day Saints! On a Sunday! In church! I almost died.
Here is what I am saying. My expectations weren't just wrong at times, they were contrary to the process of discipleship that we see in the scriptures. Discipleship is less like a microwave and more like a crock-pot. The guiding question that I ask myself now is, "Are we becoming more like Jesus?" Rather than, "Does this look good?"
2) It takes time.
This is sort of a continuation from the first one but a lesson that I have had to learn over and over again. I love results. I mean, who doesn't? I love when things get done and get done well. I love when things work properly like they are supposed to, without any complications. When it comes to pastoring and making disciples, the question then becomes, "When do we arrive?" Is it when all the volunteers show up for nursery when they were scheduled? Is it when there is enough money in the budget?The Apostle Paul actually tells us in Philippians 1:6, "And I am sure of this, that he who began a good work in you will bring it to completion at the day of Jesus Christ." Wow. "The day of Jesus Christ." So that's when I'm done Paul? I either die or Jesus comes back? That's when this thing is done? Cool. Thanks. Got it.
I have to remind myself of this verse all the time when I think about church. It's about real people, not instant programs. Real people, with real lives, and real souls who are struggling with real issues. Eugene Peterson said it best, "Discipleship is a long obedience in the same direction."
3) People come and people go.
This isn't one of those angry pastors rants. This is something that in my naivety I really had to learn. I thought that every single person who would visit or say, 'Great sermon!' was going to be around forever. If I'm honest, I would have to say I thought every single person would have agreed with our mission and loved everything that we were doing as a body of believers. I thought the people who needed me in a moment of crisis, no matter what was going on in my life, would be around for other people in moments of crisis as well. The reality is, that's an unrealistic expectation and even one that we don't see placed on people in the scriptures.
"After this many of his disciples turned back and no longer walked with him. So Jesus said to the twelve, "Do you want to go away as well?" John 6:66-67
"Do your best to come to me quickly, for Demas, because he loved this world, has deserted me and has gone to Thessalonica. Crescens has gone to Galatia, and Titus to Dalmatia.  Only Luke is with me. Get Mark and bring him with you, because he is helpful to me in my ministry. I sent Tychicus to Ephesus. When you come, bring the cloak that I left with Carpus at Troas, and my scrolls, especially the parchments.  Alexander the metalworker did me a great deal of harm. The Lord will repay him for what he has done.  You too should be on your guard against him, because he strongly opposed our message." (2 Timothy 4:9-15)
What I have had to learn over these past five years is this… it's not about me.
4) Build it on the bible.
I have always had a deep burden for biblical literacy within churches. For people to sit through a million sermons, a million bible studies, and still not have studied the bible is absolutely devastating to me. So, when we came to West Side, I knew the burden the Lord had given me: teach the bible.
That's what I have given my life to over the past five years. I have had the privilege to teach through multiple books of the bible and countless series and one thing always remains the same. God's Word never returns void. Never.
If you are a fellow pastor reading this, listen to me: Let the word do the work. Don't believe the lie that people "don't want theology and don't want to go deep." They do! They really do! We have seen it with our own eyes at West Side! Men and women who were far from God, haters of God, who sat under the word each week and the word of God softened and broke their hearts to become receptive to the gospel!
5) It really is all about Jesus.
I know, it's cheesy but let me tell you… it's true. No matter what the sermon, program, budget, or conversation is, it has to point back to Jesus. I have seen Jesus change lives, heal marriages, and break addictions over the past 5 years. I know now why Paul said, "For I decided to know nothing among you except Jesus Christ and him crucified." (1 Corinthians 2:2)
Because honestly, what else matters?
If you know me at all, you would probably think that I would end this blog post with a Spurgeon quote. You are right. These are Charles Spurgeon's first words to his congregation as their pastor on March 24 1861. Five years ago this Sunday, these were my first words to West Side Church of God. May it forever be true:
"I would propose (and O may the Lord grant us grace to carry out that proposition, from which no Christian can dissent), I would propose that the subject of the ministry of this house, as long as this platform shall stand, and as long as this house shall be frequented by worshippers, shall be the person of Jesus Christ….if I am asked to say what is my creed, I think I must reply: "It is Jesus Christ."- Charles Spurgeon